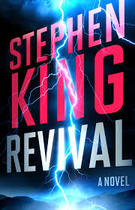 Stephen King's
New Novel
If I read a book I don't like, I don't post anything about it. Ever. Like a traffic cop overlooking the slapdash lane swerving of a fellow cop. But today I make an exception. I figure Stephen King can take it.

Here's the problem. When I pick up a Stephen King book, I never know who I'm going to get.

I've been reading him for a long time, beginning with Carrie and Salem's Lot and later the longer volumes, like Dead Zone and Cujo. Even though the plots began to blend together for me, the everyday lives he painted seemed gritty and real, and the breakneck pace kept my heart racing and my fingers turning pages. After a while though, I grew tired of the flat endings, as if King decided after 800 pages or so that he was ready to move on to another world and another set of characters. For years, I'd pass his books on the store shelves and feel an ache of longing to be transported into his nightmares, but decided ultimately that the time spent would be a poor investment in the end.

But I couldn't quite stay away. I came back for the short stories, then a few shorter novels, not quite as enthralled as I'd hoped. But then 11/22/63 came along, and what a gem of a book that is. If I were asked to list my favorite novels, one of those useless exercises I enjoy, this book about time travel and the JFK assassination would likely crack the top 25. And the ending? Exquisite.

So I was hooked again. I backtracked and decided to tackle another behemoth.

How does the writer of 11/22/63 also write the meandering mess that is Under the Dome? Characters we come to know well after a mere two or three pages (King is the master of this) are killed off without purpose. Oh, I suppose there's reason, for effect and all that. But once the effect is established, the pattern is repeated, and new characters take the stage that aren't as fleshed out; and other than gore, nothing truly dramatic happens. And talk about a stupid ending.

His latest efforts are hit and miss as well. Joyland is a good ride, beckoning back to the days of pulp fiction, but the book, luckily, is short—because, yes, you guessed it, the ending is beyond ridiculous. Mr. Mercedes is and old-fashioned, hard-boiled detective novel, and while the end is a little implausible, it fulfills the expectations of this genre. This is a good, entertaining read.

What prompted me to write this post. I just finished Revival, his newest book. I was so hopeful. I was ready to settle for the solid effort of Mr. Mercedes. But I'm sorry to report that Revival reminds me instead of Under the Dome. The first two chapters are promising. But after that, it's a long drive without much destination. If you're a Stephen King gambler like me, save your money this time around. And wait for the next one, which always arrives sooner than seems possible.