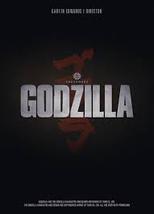 Don't read any further if you want to see Godzilla without the taint of someone else's opinions.

My hopes for new movies are always high. On Fridays, when I open to the reviews in the newspapers, I'm a little tentative, rooting to see four stars emblazoned, or even three, my heart sinking if the rating is lower on a flick I've been eager to see.

For Godzilla, the Chicago Tribune boasted 3½ stars, and I could already taste the popcorn. But then I turned to the Daily Herald, which rated the movie much more harshly. Ah, I thought, I'll have to judge for myself, which I do anyway. But now I was wary.

The first hour of the movie works very well, with a range of emotions displayed and an ominous score and decent acting, especially from Bryan Cranston. The set-up is drawn out but done so well that I had no complaints.

Finally, we get a peek at the monster. But it's not Godzilla. It's this other radiation-hungry creature, a gargantuan grasshopper looking thing with steely wings, that's clearly up to no good—well, not really—the creature is simply hungry and doesn't seem to have any interest in humans at all. For me, this defused the drama, well, dramatically. To save your ass in this world, all you'd have to do is move to an area not so rich in nuclear resources. This is a short-term solution, and you probably wouldn't survive long anyway, but you wouldn't have to deal with these giant grasshoppers. And then we find out that there are several of these menaces.

Notice I haven't even mentioned Godzilla yet. He barely makes an appearance. And when he does, I don't know where he came from, who he is, if I should buddy up with him or run. I feel more emotion when watching Muppet characters, and I hate the Muppets, most of them anyway (there, I said it; sorry if I offend).

By the end, Godzilla is clearly more friend than foe, but I don't know why—why, that is, he wants to defend the human race, because if we're to believe the rest of the movie, the human race has created a mess of the world. In the end, I feel as if I didn't even see a Godzilla movie. I saw a lot of computer-generated destruction—and that's getting old—which looks fairly real but left me unmoved.

Much of the above complaints might have been softened by a better human story, but these actors aren't given much range to work with. The Japanese doctor in particular, who is probably a fine actor, mainly stares just above the camera lens, toward us, with his mouth open in horror and regret. Which pretty much matched my face while heading for the exit.