I've always been intrigued by time travel and did just that a few weeks ago. I slipped back to 1971 for our first ever St. Columbkille eighth grade reunion. Saint Who? That's right. St. Columbkille. Near Grand and Ashland in Chicago. The school shuttered its doors the day after we graduated, which has always filled me with both pride and shame. No one could fill our shoes, I thought, but at the same time, this question: Were we that unruly? Closing the school was more likely a diocese decision that took into account boiler costs and teacher salaries, as pitiful as those must have been. Though I am pretty sure we drove our eighth grade teacher out of education, granting countless future students a huge favor. "Unruly," by the way, was his favorite insult for us. He never tired of it, calling us "you unruly elements" many times each day.

Before I get to the reunion, let me back up. Weeks after I graduated, my family moved out of the neighborhood. I went with them of course. I was fourteen. But the move felt like a sudden split. My mom and dad were not the nurturing parents who sat us down to explain where we were moving or when exactly we'd be going. I always felt that if I hadn't come home that early afternoon after working all morning with the local milkman, that they would have left without me.

So between then and now, I hadn't seen or heard from a single person from my old grade school or neighborhood. Which is why I've thought about them often. I never got to say goodbye. I never got to learn the rest of their stories—what they did, who they became.

Though the adjoining church burned down in 1975 after it had been slated to be demolished anyway, the school building still stands, used now to teach children with autism and other developmental issues. A few of us met at the school before dinner, and one of the employees happened to be leaving. At 5:00 p.m. on a Saturday! That's all you need to know about his dedication. We asked if we could peek inside, and he gave us a full 30-minute tour.

I had been content to loiter in front of the school, the past flooding back in vivid snapshots: the countless hours playing softball on our asphalt "field"; sitting on the wide steps, playing poker; and using the steps as a jail at night for ringalevio. But to enter the school, this cauldron of dreamy memories, never sure after a while what was dream and what was real, made my head swim. Three floors. Each floor had four classrooms in the corners. Classroom ceilings 30 feet high. Two stairwells, one running down the front of the school, the other down the back. Even these basic details had become dim.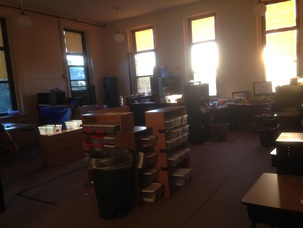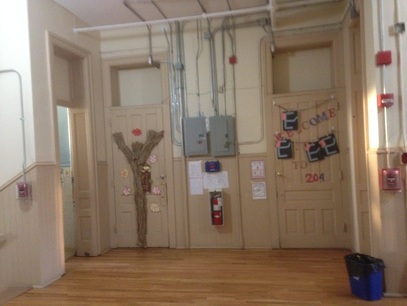 As we were standing on the second floor landing, someone remembered how Jerry used to climb on the ledge of the chalkboard and reach up to move the clock hand forward so we could leave early. The teacher never caught on, and the entire class would exit down the front stairs, opposite the principal's office. (I'm changing most of the names here, by the way. After all these years, I'm still protecting secrets. Those nuns taught us well.)

On that same landing, Jack casually reported, "Yeah, this is where Sister Agatha pushed me down the stairs." We all stopped and turned. What? "Yeah, she pulled me out of class…and started poking my chest…and pushed." These were steep, metal stairs, about 15 of them. He said he lay there, pretending to be hurt so that he could go home. Mom was called to bring him home. When he told her what had happened, she didn't believe him!

No one remembered the push because only Jack had been out in that hallway. But most remembered the clock. I didn't at first, and never would have without being prompted, but that memory soon became fairly solid. But what if someone had mentioned something that did not happen? I probably would have started to consolidate that false information in my brain as an actual event. For example, I've been thinking about doughnuts lately, not unusual for me. But I've been thinking about a particular kind, a certain dozen crammed inside a certain waxy white box that I think we had to sell for a school fundraiser. I think they were called Clyde's. All other doughnuts in my life have had to live up to these sumptuous treats. The thing is, I'm not really sure if we ever sold them. It's possible that the school simply sold them to us, or that they appeared in another decade of my life. Back to my point: if someone had suggested that, yes, we sold chocolate cake doughnuts every Christmas to raise money for the boiler that was in need of constant repair, those details would have soon, and without question, become a solid memory for me. (If any fellow eight graders are reading this…can you verify?)

Is this why I've avoided every other reunion invite in my life? To preserve my tenuous grasp of the past? Is what's stored in this old noggin of mine more important than what really happened? Sometimes, at our reunion, the facts did clash with my stubborn memory. I'd always thought that, except for catechism, I got through eight years of Catholic school without a nun as a teacher. Oh, I admitted that they wielded great influence as they marched around the school and church. I think I avoided eye contact and held my breath. But I was informed that we in fact had several teacher nuns during the first few years. More often though, instead of clashing, the stirred-up past confirmed what I remembered, or spurred on the kind of re-remembering that I described earlier. This entire process, the entire evening, had me leaning in. Why the hell had I avoided reunions? This was fun.

One worry I had as I drove to meet these now strangers was that we wouldn't have much to say to each other. But there were no awkward pauses, no empty stares, as if picking up right where we left off. The instant camaraderie resulted, I think, from this: we had all shared the same battles. No one else could understand how small we felt in those small desks as mr. h belittled us, especially the girls. No one else could understand how important we felt while campaigning for Mr. Hallock during his Chicago aldermanic run.

As I listened to the stories and battled with my memories, my paternal instincts kicked in. I wanted to protect those girls from mr. h; I wanted to cover for Jerry who was too often caught doing the unruly things we wished we could do; and most urgent, I wanted to catch Jack from falling down those steep steps. But the other lesson that hit hard, after a while, was that none of us needed saving. We were resilient. Children are resilient. Maybe the hard knocks toughened us. Not that there will ever be any rational justification for pushing a kid down like that. But if it happens, we stand up. And if we've learned anything these past 45 years, we speak up as well. Maybe today someone would listen.