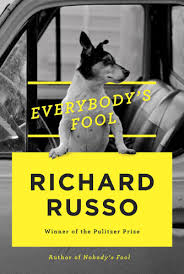 Reading Richard Russo evokes the illusion that he's sitting beside you on a barstool and catching you up on neighbors and friends you once knew. The illusion is especially vivid in his new book, Everybody's Fool, because we've been here before in North Bath with Sully and Rub the person, along with Rub the dog, that is, if you've read Nobody's Fool. And if you haven't, what's wrong with you? In fact, read Mohawk, then Risk Pool, then Nobody's Fool, and finally, Everybody's Fool.

In between are solid books well worth diving into, but this is the one I've been waiting for because Russo is at his best describing the modest aspirations of ornery characters in small towns. I grew up in Chicago, but it's made up of neighborhoods that can seem insulated, so these small towns Russo depicts feel homespun yet universal.

Full disclosure: I don't spend much time on barstools. Full disclosure two: I can't recall ever caring about the thing being disclosed under "full disclosure." Having disclosed here fully, more than fully, I suspect that sitting on a barstool for hours is mostly ordinary, possibly depressing and dark even. So I'm not referring to a real barstool. I'm referring to a dimly lit throwback tavern with hardboiled eggs in a jar and dollar bills tacked to a wall and spending time with Old Russo, who lumbers in and sits at the same stool every time and makes you smile, that more than anything, because he's seen a thing or two. He knows we're all a little ornery, or worse, and to hear how others deal with that human condition ultimately sheds light on our own lives.

More than anything, this newest novel will send me back to rereading the other books mentioned above. I love the company.