If you're tired of winter already, if you gaze out your front window at great mounds of grungy snow and know that another six inches will fall that day, followed soon after by a thaw that will produce slippery slush, followed by torrents of rain threatening to spark flash floods, followed by ripping 50 mph winds—yes, we had all that this week in the Chicago area—here's your prescription.

Pitchers and catchers have reported to spring training, and you need to put yourself there by reading Roger Angell's classic, The Summer Game.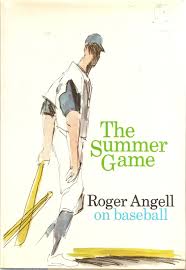 The book includes plenty of history of the 1962 season, but Angell also shows why baseball commands such a hold on us. For instance, he explains why the Mets, a team in its infancy back then and who suffered legendary losing streaks, inspired diehard fans who wouldn't quiet cheering, even when their team trailed by double digits.

I've always believed that the sports pages often include some of the best writing in most newspapers. While not a newspaper journalist, Angell combines the best of that type of lively writing with the close observations one sees in fiction and poetry. Here's Angell on 44-year-old knuckleball pitcher, Hoyt Wilhelm: "The ball sailed up, made a sudden small swerve, like a moth in a hallway, and flumped feebly into the catcher's glove, as the fans cried 'Ah-hah!' in unison."

We won't be seeing green for quite a while, but this book leads me there.