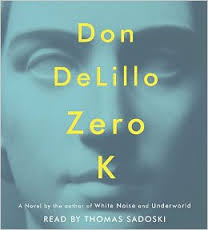 Hearing that a new Don DeLillo book is out brings me back to my boyhood anticipation of Thursdays, the day when new comic books arrived at the corner store on Wood Street. How I miss those little stores, stocked with candy and chips, fresh bread and canned goods, even greeting cards and prescriptions. Those stores had everything, and they were right there, in the middle of the neighborhood, just down the block.

After buying a DeLillo book, I let it sit in the house for a few days because I know once I begin I will finish it quickly. Leaving it on a tabletop is part of the savoring.

DeLillo is not a writer I recommend to many people. His plots, if they exist, are secondary to his ideas. His characters are complex yet one-dimensional, in the sense that they all speak the same, because their purpose, again, is to convey ideas. The ideas, the themes, are so rich and wide in scope that none of this matters. The one-dimensional business is not a criticism. It's just DeLillo. He's able to put into sentences the fleeting thoughts of a day, what it's like to be a conscious person. The thoughts he captures are often primitive, sometimes childlike, but always weighted with what feels like great significance. You get a sense of a genius mind at work—and looking into your head.

His latest book, Zero K, a term that refers to the coldest temperature possible, is propelled by plot. The narrator's stepmother, nearing the end of her life, decides she wants her body cryogenically frozen. His father can't bear to live without her, and though he's healthy and relatively young, soon follows. Talk about desolation. These passages of the futuristic compound where this happens are among the most stark and haunting I've ever read. In his earlier work, DeLillo may have stranded readers there, but here he reaches and offers satisfying glimpses of light. This is one of his best books in years.

By the end, I wanted more pages. But like a boy standing outside the corner store, searching for an incoming truck with the day's deliveries, I'll have to wait for more.

I have no insider information about DeLillo, but I have a prediction about what's coming next from him. A book about the meaning and manipulation of genes.