I need to enter a 12-step program. But I'll need to start my own because my fix is pretty particular. I'll call it TA, for Thrift-store Anonymous. Or just T. Not sure I need Anonymous. I'll need to create my own checklist, I suppose:

1. Do you ever go to more than one thrift store on the same day?
2. How long do you spend there?
3. Do you go alone?
4. Do you eat breakfast, lunch, AND dinner from the vending machines at thrift stores?

You get the idea. Actually, I'd need to be even more specific with my program because once I reach the store, my palms sweaty in anticipation and my heart hammering away, I veer toward only one section: the books. Maybe I can call the program TBA, for Thrift-store Books Anonymous. I can imagine the confusion. "You're going to a TBA meeting? How will you know where…or when?"

Explaining one's particular obsessions usually falls short. We all understand our own but fail to grasp the pull of anyone else's. I can't imagine the need to watch sports every night. Or the impulse to buy new shoes when you already own 8 pairs. But books? It's like finding a $10 bill on the sidewalk and so for the next ten minutes your eyes keep scanning the ground because you know more cash will appear. There are always more gold nuggets just around the corner.

My latest finds:

A Confederacy of Dunces: John Kennedy Toole / Bella Tuscany: Frances Mayes / Wait Till Next Year: Doris Kearns Goodwin / Sin in the Second City: Karen Abbott / A Heartbreaking Work of Staggering Genius: Dave Eggers / A Supposedly Fun Thing I'll Never Do Again: David Foster Wallace / After the Plague: TC Boyle / All My Best Friends; George Burns / Demian: Herman Hesse / Gang Leader for a Day: Sudhir Venkatesh.

You're envious, aren't you?

The books feel like orphans to me. If I already have a particular title, I become an adoption agency and buy for others. Or sometimes I'll see books with inscriptions that I don't have much interest in but can't turn away.

I found these words, at the front of a Studs Terkel book, heartbreaking. The title was not a recent one, so I imagined the recipient being well beyond 70 and maybe gone, the family taking on the heavy task of clearing out her things.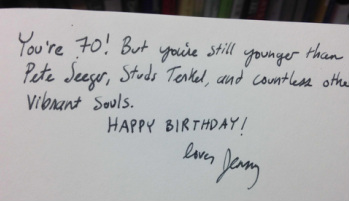 I find the practice of inscribing books a quaint one and was surprised to see these words on a newer title. I found this inside Malcolm Gladwell's David and Goliath: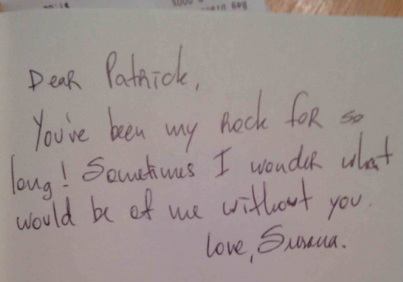 I hope Patrick is fine, and if he is, I wonder why he's giving away books that include a personal message like this.

For the record, I still buy new books, at book stores, because I don't want them to become extinct. But I'm afraid I'm fighting a losing battle.

Well, I have to go now. Time for my TBA meeting. "My name is Tony, and it's been…14 hours since my last visit to Goodwill or Savers…"