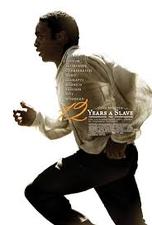 I don't follow sports closely enough to predict playoff teams during any given preseason, I don't go to the races, I don't read isobar maps to predict next week's rain, but I do love movies, and while I'm no expert, here are a few early nomination predictions based on the last four movies I've seen.

Best Picture
12 Years A Slave
Gravity
Captain Phillips

12 Years a Slave, which haunts you for days after, has the best chance to win of the three. The movie feels familiar: white, greedy landowners, some more vicious than others, believe blacks can be property, a notion that seems unfathomable today (I hope), yet as you're pulled in by each tragic turn that occurs as a consequence of this belief, you begin to dehumanize the callous "masters." In fact, there are moments when you root for the slaves to rise up and take a shovel to the masters' skulls. So while you can't understand or identify with the cruelty shown by the landowners, you're left wondering what to do with your own feelings of revenge. I know, the impulse for revenge is based on their actions, which is quite different than dehumanizing someone based simply on skin color, but I'm always left more than a bit uncomfortable by what I'm capable of feeling.

Best Actor / Actress
• Chiwetel Ejiofor, the lead in 12 Years will win. He should win.
• Tom Hanks in Captain Phillips may get nominated. He's so good, he makes everything look easy. But he won't win if nominated. The reason I think he should get nominated: put any other actor in this movie, and the balance is lost. As is, you actually feel some compassion for the pirates, and I think Hanks helps create this dissonance.
• Sandra Bullock will get nominated but won't win.

Special Effects
Gravity will dominate. An easy call. This is a pretty good movie, well worth seeing. But I don't think I need to see it again, as visually stunning as it may be.

Sound or sound editing or sound-something
Rush

Editing
Rush
That Ron Howard knows what he's doing and knows how to get the best out of the people around him. Not that I've been on set or anything. But that's always the impression I have. Excellent movie. But won't be one of the top ten best.

Best Director
Steve McQueen (12 Years)
Alfonso Cuaron. (Gravity) He'll probably win, but I think McQueen should.

Of course, all this could change as new movies come out. But I feel confident with these choices. Why not? I don't have anything on the line. Unless someone wants to step up for a friendly match!