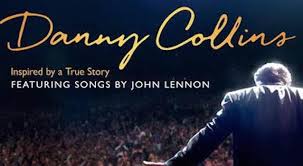 Danny Collins

I was reluctant to see this movie because the previews looked, as young people say, lame. And given the premise, I already knew the ending. A famous singer, Danny Collins, known for his schmaltzy pop songs, receives a letter from John Lennon, but he receives it 40 years after it was sent. Insufficient postage? With the encouraging letter in hand, Collins has to reexamine his entire career and his strained family ties. (It's my understanding that such a letter was actually sent by Lennon to some musician. The rest of the film strays from this simple fact.)

So yes, the plot is predictable, with a few surprises thrown in here and there, but the story unfolds convincingly, and the writing is smart and crisp and rarely hits a false note. The acting is superb, especially a shambling Al Pacino in the lead. And the Lennon songs sprinkled throughout add a layer of emotion that's hard to deny, especially if you're a big John fan.

I really enjoyed this movie. Touching and sincere.
3 & 3/8 stars.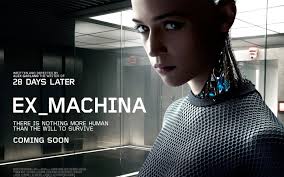 Ex Machina

Biggest obstacle to seeing this movie: how to pronounce the title when buying a ticket. I just said, "Ex." I was pretty sure it was EX MOCK EE NUH, as one would say it in Italian. Without reservation, the guy in front of me said he wanted a ticket for Ex Machine-uh. They let both of us buy tickets and enter.

In contrast, the previews for this movie were enticing, but the movie itself was a bit of a letdown. It reminds me of the movie, Her, that also centers around the link between humans and machines. With Her, an interesting cultural angle is developed. The entire society has become dehumanized to an extent by its reliance on technology. Sound familiar? The alluring voice of an app mesmerizes the lonely, main character, and we come to understand why he's drawn in. The entire movie feels prophetic, like a funhouse mirror of what's happening all around us today.

In Ex Machina, the machines are artificial intelligence robots, created in an isolated pocket, far from society. The threat here is the old Asimov idea that machines will "evolve" and do away with humans, who age and become ill and die, and who are inferior, from a machine point of view—and that's the premise here, that machines can have a viewpoint, a consciousness.

The movie is sleek, a pleasure to watch. The writing is fine, with a few hitches here and there. The acting is good. The pace is slow but engaging. But in the end, I wanted to like this movie more than I did. Though I'm not sure what I'd change. I suspect that I won't feel haunted by this movie, as I felt for days after seeing Her.

Overall, though, I think this is worth seeing.
2 & 1/4 stars.



(By the way, it took me 15 minutes to figure out how to insert actual stars, but when I pasted those stars here, they turned into letters. I'm going to figure this out!)