No matter what movie Bill Murray stars in, he's always Bill Murray. For most actors, this would pose a great problem, but not for Murray. Maybe because he doesn't allow a role to restrict him. He does more or less whatever the hell he wants for fun—both on and off the screen. He doesn't have an agent or a publicist. He doesn't even use a regular phone for business but an 800 number that might or might not get through to him.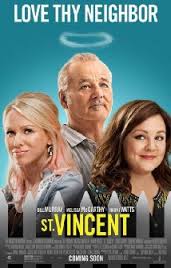 This live in the moment spirit fits his most recent role in St. Vincent perfectly. He plays Vincent, the cranky old neighbor with a soft side, who becomes so desperate for cash that he sits for the new neighbor's kid next door. Sits meaning, he takes him in his beater of a car wherever he goes: to the racetrack, bar, or hospital.

The movie's opening scenes start off a bit clunky, but the movie soon settles into an easy rhythm that pulls you along. You know where you're going to be pulled, as the storyline is predictable, but you don't mind in the least because Bill Murray is leading the way. Following a script for sure, but clearly adding his own nuanced improvisations. The other two improvisational actors, Chris O'Dowd, brilliantly cast as a Catholic priest, and Melissa McCarthy, as the neighbor, bring a spontaneity that also helps to downplay the predictability of the story. Naomi Watts plays a vital role, and she does fine, but her character is thinly drawn and easily forgotten. The neighbor boy, played by Jaeden Lieberher, about ten years old, has some remarkable moments. I suspect that name will sound familiar to many in a few years.
The movie's not going to win an Academy Awards, but it's a solid effort, sweet, funny, touching, and very enjoyable.

As the credits rolled, Bill Murray sits on a lawn chair playing with a hose, clearly for his own amusement. No one in the theater left, no one even stirred. To understand why so many of us are mesmerized by this guy, pick up the November 6 issue of Rolling Stone. I had a few minutes to kill before the movie and happened to see the magazine at Target and read it afterward. I could quote the entire article, but I'll limit myself to this story in the opening paragraph.

While in a cab, Murray finds out the driver is a saxophonist, who never has time to play. So Murray tells him to pull over, to get his sax out of the trunk and play, while he, Murray, drives. Then they pull over at a BBQ place so the cabbie can play for a crowd. Read the entire article. It's inspiring.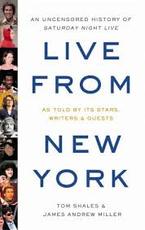 Coincidentally, I'm also reading Live from New York, the 2002 edition about Saturday Night Live, featuring short interviews of the main players and writers and producers, nearly all of them compelling. Bill Murray comes across not only as wildly creative and spontaneous, but articulate and insightful as well.

Chevy Chase left the show after his first year, stirring resentment among some. When he returned to host, he and Murray, minutes before a live show, got into a scuffle, prompted by other cast members, mainly Belushi. Murray was hoping to throw off his timing, which didn't work. But he did manage to bring Chase's ego down a notch, a big head being one of the few sins in St. Vincent's, or Murray's, world.