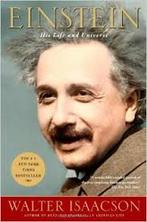 As I'm reading Walter Isaacson's excellent book on Albert Einstein, I'm realizing something: when I read a biography, my reactions follow a rough pattern.

1. I FEEL CONTEMPT. Not for the subject of the bio—not usually at least. But for the others who don't yet recognize the greatness in the person. For instance, for many years no one would hire him. How can you not offer Albert Einstein a job, you idiot? This is Einstein.


Early in his life, one of Einstein's elementary teachers wanted him ousted, probably because he was Jewish. She claimed that he "spoils the respect of the class."

2. CONTEMPT IS TEMPERED BY IRONY. Many universities ignored Einstein's job applications. Had he been hired, he would have worked within an academic system that stifled free thought. He settled for a job at a patent office, where his boss urged him to question everything, which carried over into his thinking on relativity and other concepts that changed the world.

I haven't read the new bio on Richard Pryor, but I listened to an interview on NPR. He complained to one teacher about being called the N word by classmates. The teacher replied, "Well, that's what you are." Ah, but another teacher, she noticed that Pryor, who was always tardy, enjoyed entertaining his classmates. She made a deal with him: "Show up on time, and you can entertain in class." He was never tardy again.

3. I FEEL SMARTER AND DUMBER. I usually enter a bio with a few preconceived notions, then feel dumb if those notions are way off, then feel smart because now I know. Einstein, for example, did not fail math. He did very well in school, especially if the subject matter lent itself to thinking in pictures, which is how he approached problems.

4. I WANT TO BELIEVE I'LL LEARN SECRETS. About life, how to live, how to overcome adversity, how to define success. For example, Einstein admired physicist Ernst Mach for his "incorruptible skepticism." Without this skepticism, Einstein would have been a long forgotten patent clerk.

5. I WANT TO BE THERE. Einstein would have long discussions with friends, sometimes lasting till morning. In the summer, they'd climb mountains, watch the sun rise. Sometimes Einstein would play his violin. In the morning, they would hike down and have coffee at a local café. Breakfast with Einstein. I'd go see that movie.

6. I DON'T WANT TO FINISH THE BOOK. Because while I'm reading, Einstein is breathing and thinking and playing music and drinking coffee. Now. Never ending.

I'd be curious to know about your patterns. What am I missing here?