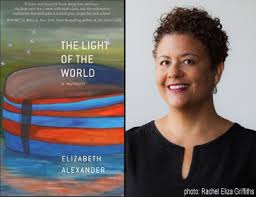 Those of you who stopped by to say Hello at Printers Row Lit Fest this past weekend: Many thanks. Nice to see you.

One of the sessions I attended featured poet Elizabeth Alexander, who read from her fine memoir, The Light of the World. It's the kind of a book, when you hear about the subject matter, that you may decide you don't want to read. It's the kind of book Alexander wishes she didn't have cause to write. It's about her 16 years with her husband, Ficre, who died suddenly in their home recently.

At the session, she talked about how she and her two boys support each other, how they suffer together, how they find strength—and through all this, you can feel the goodness of Ficre, how he still inhabits their lives. She writes about how when she was with Ficre, "there was suddenly enough time: to talk, to read, to think, to sleep, to make love, to drink coffee or tea, to practice yoga, to walk." It's a beautiful sentiment, part of a beautiful and eloquent tribute to a man you wish you'd met.

It's a sad book but ultimately uplifting because it captures Ficre's abundant and free spirit. I highly recommend this!