I wish I'd known this guy.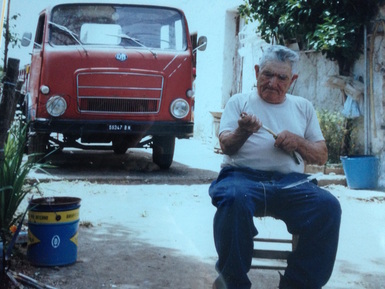 He was my Nonno Leone, and he died at the age of 100. We left him and came to America shortly after I was born, which must have broken his heart. He is whittling away here at a bamboo shoot to form a whistle for me, his grandson. I was in my mid-twenties when I shot the photograph, well beyond the age of prizing whistles, but I was glad to have it. He was 90 at the time, the last time I saw him. I still have the whistle.

When we left that early morning, we had to wake him in his bed. He raised his arms to embrace me, weeping like a baby, knowing he wouldn't see me again.

We had visited only one other time, when I was seven. He sliced farm fresh peaches and steeped these in a glass of wine. I ate the peaches and sipped the wine and soon became drowsy. He had to carry me up to the bedroom, one of the few memories I have of him, vague as it is.

I do clearly remember watching him chase a circle of squawking chickens. He had on these unlaced, scuffed black boots that he used to work the fields. He finally pounced on one of the chickens and calmly bled it out, not worrying at all about what his young grandson from America might think.

If we had never left him, these farm scenes would have been commonplace for me.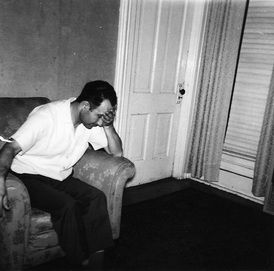 This is my father, who also grew up on a farm.

He realized early on that he didn't want to chase chickens and so became an apprentice for a tailor in town, taking him away from his family for months at a time. He was only eleven when he began. As skilled as he was, he couldn't make a living in Giao, his small village in Italia, which is why at age 37, he left for America to find work and then sent for his family.

Instead of being outside, like Nonno, Papa sits in his living room in Chicago, probably just resting his eyes. But the way he holds his head has always summed up for me the weight he felt about being the provider. Though we always had plenty on our small table, he worried that it wouldn't be enough. He never schemed to strike it big, as some men might under this pressure. Instead, he trudged ahead steadily, never missing a day of work, never giving his boss reason to send him home, never upsetting the safe, little world he'd created for us.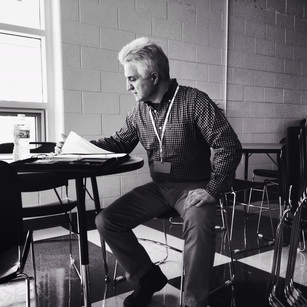 And this is me a few months ago.

I am also inside. Not whittling. Not chasing chickens. I think about the crushing strength of Nonno's hands, how they belied his gentleness. I think also about the intelligence in my father's hands, the grace of those fingers as he chalked patterns and scissored them into pieces that would become a woolen skirt for my mother. I still have the gray, pinstriped suit he designed and made for me when I graduated from college. Oh, to still fit into that vest.

In my hand is a pen. I have spent years poised like this. Curled over, thinking, waiting. A world apart from Nonno and Papa.