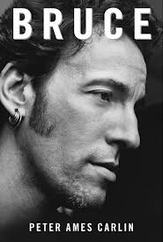 As I plowed through the 467 pages of Bruce by Peter Ames Carlin, I wondered if readers who are not fans of the Boss would enjoy this book as much as I did. I'm still not sure, but I think so. The writing is excellent, the insights are deep and earned, and the balance is even. Carlin had access to Springsteen but was free to write what he wanted. The result is a compelling story of a driven neighborhood guy with talent up the wazoo and his own unique set of issues.

Sometimes when the unattractive underbelly of a person is revealed, the warts taint the reader's admiration, which happened when I read bios of Kurt Vonnegut and Frank Sinatra. By the end, I'd had enough of those guys. But with Bruce, the flaws, thorny as they are at times, only serve to highlight Springsteen's unwavering commitment to his music. It's downright inspiring.

Here's what I mean. Usually when I read biographies, I'm intrigued by turning points. If Paul had never met John, that's that. No Beatles. No pandemonium. They may have enjoyed moderate success as musicians in clubs or wherever. But with Springsteen, you get the overwhelming impression that key turning points didn't matter. If this producer had not given him some break, then some other one would. I'm not talking about fate or karma or anything of that nature. I'm referring to drive and talent and an original voice, meaning lyrical too, that must be heard. Someone could argue that he still needed certain conditions in order to thrive. For instance, his mother took out a loan to buy Springsteen his first guitar. She took out a loan! But I would counter that his insistence was more critical. He wore her down. And if she hadn't relented, he would have gotten the guitar through other means.

A couple of examples of his single-mindedness. About a year after the success of his seminal album Born to Run, he's standing outside a bar, unable to scrounge from his pocket the $3 cover charge. He's so immersed in composing and performing that mundane concerns over money barely faze him. Typically, when he finishes a show, he'd rather move on to the next city than to lounge around. Lounging around means he's one step removed from the music.

Reading the two pages about his speech at the South by Southwest music festival in Austin, Texas, is worth the price of the book. The speech reminds me of the kind of graduation speech we never hear but should.

If you've never been to a Springsteen concert—first of all, what's wrong with you?—you may wonder if this biographer's praise of his performances is overblown. I'd suggest you find out for yourself. Go to a concert. Become a convert. Then you'll want to read this book. If you are a fan, you've probably already read this book. If not, what's wrong with you?