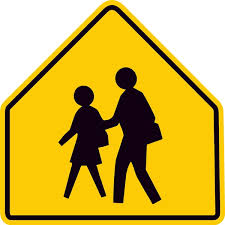 During my early morning bicycle ride today, I saw children marching with backpacks toward school or waiting at bus stops or loading into vans. Today is the first day of school around here, and there seemed to be a bounce in kids' steps and an anticipation in their faces. Maybe not quite glee, but there was no shuffling or heads hung low.

I saw parents walking their kids, cameras straps slung from their fingers. I saw a mom fixing her daughter's hair at a bus stop. Getting coffee, I overheard a woman referring to a text from a mom feeling weepy about leaving her daughter at kindergarten. I saw a mom leading a line of about ten kids, and a brother and sister strolling in step. Passing a school, I saw teachers warmly greeting kids at the door.

My question. Why was seeing all this so deeply gratifying? Seriously, I'd like to hear your take on this. For me, I think I felt good about this because I was witnessing a family event. I imagined the days and weeks that led up to this, the school supply and clothes shopping, the brushing up on the times tables, the increased push to read a book. So today seemed like something earned. If not quite that, then at least families, one after another, forming a community of hope, were recognizing this as a milestone. Another year. A greater challenge. And today, every kid is an A+ student rather than a blank slate, though that impression will soon fluctuate, maybe even by the end of the day. I should take my bike out at 3:00 to observe everyone's pace then.

I thought my small pocket of joy would warm me till nightfall. But late morning, I walked to the library at a local junior college in my neighborhood. Instead of quaint processions of kids clutching books, I saw car after car pulling into acre lots, bass beats booming from open windows. I saw trudging. And weary eyes. Students talking into cell phones as they walked, presumably yearning to be with the person on the other end rather than starting school. Maybe not. But the effect on me was disheartening. I didn't expect their families to usher them to school, and I couldn't imagine a first-day photo to mark the day. But it would be refreshing if these older kids could carry with them some of that first day exuberance from so long ago. Maybe it's there, too deep to fathom, or too uncool to show. If the old eagerness is there, how do you mine that to the surface? I know teachers have plenty of answers to that question. Greet kids warmly. Respect and challenge them. Allow them to express their best selves, more through writing and reading and discussing than through testing. And what the heck, this might not be such a bad idea: bring back gold stars on papers. Who doesn't like gold stars?