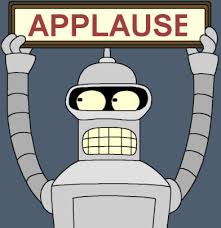 Question. How many days do you have to roam around West Hollywood before you run into a celebrity?

Answer. Apparently, about five days. That is, if you don't count Will Ferrell's mountainous profile plastered everywhere to promote his new flick. The bigger and more plentiful the signs, I concluded, the worse the movie. I think Einstein wrote an equation for this.

Last week, we spent spring break in the LA area, and while strolling through an upscale outdoor mall, we came upon a flurry of buzz at one end. Chevy was giving away t-shirts—all x-large for some odd reason. Chevy was sponsoring a free concert. Chevy was chauffering some big star and her entourage in two black Chevy SUV's to a newly constructed stage. And Chevy would later give away a Chevy to some lucky shopper.

Shoppers were herded into a small area stage front, probably to make the modest space seem more cavernous for what would likely turn out to be a commercial. We were invited to be part of the audience, but we Midwesterners were a little skeptical about this spectacle. (Say that fast.)

The singer? Kelly Clarkson. But before she could take to the stage, an emcee had to prep the crowd. He told the crowd that Chevy was trying to make this the best day ever. I wanted to interrupt and ask him to define best. He said the show was dedicated to moms (because market research shows Moms are the car buyers?). He had to teach the crowd how to clap for Clarkson's entrance. Then he ran through a practice clap. All with a straight face.

Aside from her bedazzled microphone, Clarkson was about the only genuine one amid all the commotion. She was personable, modestly dressed, and she didn't seem fazed by all the attention directed her way. Sure, she had to play a part, she had to adopt a stage persona, but we all do that. On smaller stages maybe, without the dazzle, which is probably for the best. Though it would be nice to hear applause every so often when we entered a room. At times, we deserve that. For the chocolate cake we baked as a surprise, for the kindness we showed to someone in line at the grocery store, for working 40 hours without complaint. How easy that would be. How little effort that would take. So when your mom or dad or sister or roommate comes home today, put your hands together. Make some noise. You don't even need to practice.