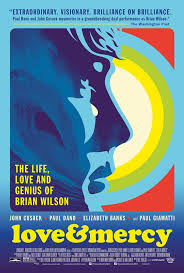 One Movie That Didn't Get Enough Attention

Love and Mercy, the story about the genius and the demons driving Brian Wilson of the Beach Boys. I've never been an avid Beach Boys fan, but their music always made summer nights fuller and winter days less chilling. If I had known back then about the battles waged to create the music, I wonder if the songs would have seemed any less comforting. Because sometimes it's better not to know. But all these years later, the music knotted firmly in the American psyche, the story of Wilson's trials only serves to heighten your appreciation of little deuce coupes hugging California highways and surfboards building to safari pitch. Though what I liked best about this movie was the attention paid to the craft of music making itself.

One Movie That Got Too Much Attention

Jurassic Something. I've never been interested in any of the Jurassic movies, though I can't quite explain why. The premise is intriguing; the special effects are dazzling, or so I've heard; I like Spielberg. But even he once admitted that after working on Schindler's List, Jurassic seemed frivolous. Anyway, I didn't see this current installment either. All I know is that it came out the same week as Love and Mercy and sucked the attention away from what everyone should have been seeing.