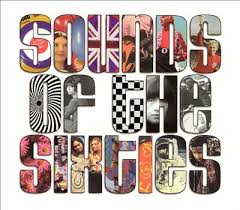 I've been teaching this sixties & seventies film and literature class, and while the focus is squarely on themes such as rebellion and civil rights and war and the changing of women's roles, I've been most struck by all the sounds that have disappeared from those decades. When Benjamin from The Graduate barrels into a gas station near the end of the movie, an intense sequence, my students, oh so young, can't understand the satisfaction I feel upon hearing the little dings that signal his arrival. I'm sure they don't even notice. Back when those dings were commonplace, I'm sure I took them for granted myself. But now, I want to stop the movie and ask, Did you hear that? When Benjamin dials the rotary phone, the sprockety ratcheting the phone makes, especially when the disk reverses direction and returns to zero, sounds glorious to me.

Actually, maybe I didn't take sounds for granted when I was a kid. I remember plugging my ear to a cold street light pole on hot summer nights and marveling at the buzz of electricity inside, a subterranean sound that both frightened and thrilled me.

Anyway, here are some of the other sounds from the sixties & seventies that I heard these past few months and that I miss.

An obvious one. The clacking of a manual typewriter. Those arms catapulting toward the paper. Even the electric ones with the steel ball had their own distinct slap, clean and succinct. I don't recall hearing teletypes in my past, but when you hear them in All the President's Men, they seem both officious and quaint.

Oh, and that lovely chatter from cash registers. Part typewriter, part vending machine, part pinball. Clattering and sighing and ringing. Which reminds me of the subtle shrrinjj sound from the knobs of those old cigarette machines. I never bought a pack of cigarettes in my life, but I never passed one of these machines when I was a kid without pulling on the taut knob, like it was vacuum packed.

Even squad car sirens sounded different back then, more shrill and urgent, though I may be mistaken about this one. Watch Serpico again and decide.

Maybe most glorious is the drop of a needle on a record, the initial pop and hiss while the needle gains traction on the first track. It's no coincidence that I purchased a turntable a few weeks ago. Now, I'm finally able to play all those LP's I've been saving for decades. Elton John and Rod Stewart and the Stones and The Beatles. And the records really do sound richer than CD's.

As I finish typing this, I pay attention to the sounds around me now. These laptop keys beneath my fingers emit a soft patter, fluid and clackety. I might miss this. My phone, quiet now, includes an array of sounds I may someday yearn for. Though I doubt this. It seems that the sounds coming from our devices today have been manipulated; some attention has gone into their creation, whereas the sounds of past decades, with exceptions maybe, were more functional and unapologetic, full of character and attitude. "You talkin' to me?" asked the cash register. "Shut up," answered the typewriter.

I hope this post sparks some of your own sense memories. What sounds do you miss?