I recently spent a few days in Nashville. This is what the main downtown strip looks like at night.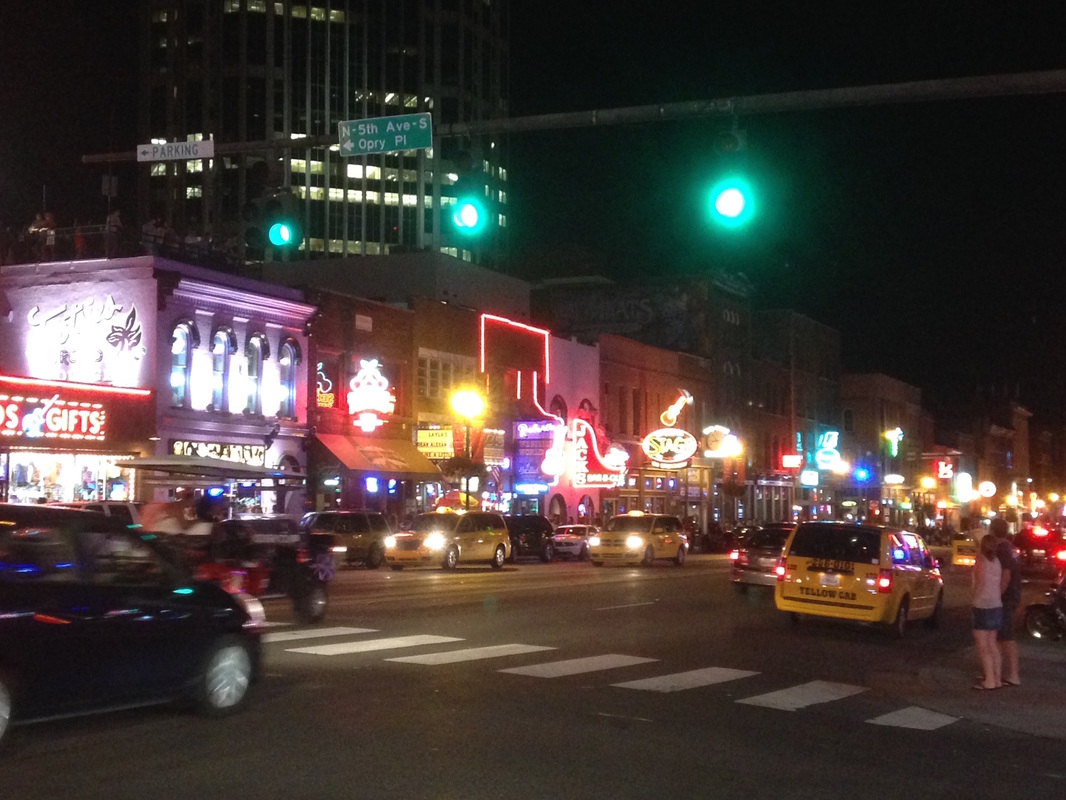 Reminded me of Vegas. But less crass and more earnest. Though unlike Vegas, it's a place I'd want to visit again. Inside every bar rocked talented musicians, who were earning their tips with long sets and strident wails. Not a false note anywhere.

Walking these streets reminded me also of Orson Welles's movie, Touch of Evil, because every few steps you're assailed by a torrent of different sounds. (It's a 1958 movie, probably not on your radar, but if you get a chance to watch the first six or seven minutes, it's one spectacular shot, minus today's computer gimmickry.)

Everyone down there in Nashville, from waiters to taxi drivers to tour guides, are hoping to break into the music world, it seemed. I did wonder if the regulars playing in bars had given up their big dreams and remained content to eke out a living playing covers, which would make a good movie. I think I've seen that movie a few times.

And the dreams begin young.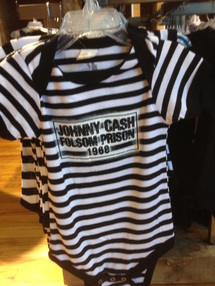 One night, a crowd of young people was herding into the arena where the Nashville Predators play hockey. We asked a radio station worker at a booth what was going on. And why the handful of protesters were trying to block the entrance, hollering that the people marching in were going to hell. When the radio guy handed us some free tickets, we decided to check it out for ourselves. It was a Christian mega-concert, a little heavy handed with its message, but innocuous and even inspiring at times.

We stayed for about an hour, then moseyed 100 feet down Broadway Street and found a piano bar called The Big Bang. The wait staff wore shirts that said Bang This. And the piano player was imploring one patron to "Show me your boobs." Also innocuous. But quite a contrast from the arena.

One day we took a tour of Barbara Mandrell's old house, which is now a museum of sorts. I didn't have any particular interest in Mandrell, but the house was supposed to be spectacular, which it was. After learning about Mandrell, I grew to admire her talent and the way she kept her family grounded in the midst of wild success.

When she was twelve, she was a prodigy on many instruments, so talented at steel guitar that Patsy Cline invited Mandrell to join her band. Her parents feared this would interfere with her education and kept her home. Shortly after, Cline's plane crashed. It's likely that Mandrell would have been on that plane. It's a chilling story that has stayed with me. But I also started wondering. It's possible that had twelve-year-old Mandrell joined Cline's band, maybe that would have prevented the crash through some odd coincidence. Maybe Mandrell couldn't fly that day because of a fever, an ear ache, something, and maybe the rest of the band would have postponed the flight. Not likely. But possible.

At her house, you were allowed to touch the books, sit in the chairs, and pick up the instruments. Here's me with Buck Owen's guitar.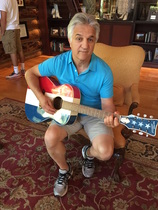 Look for my upcoming album on vinyl, Italian Country.