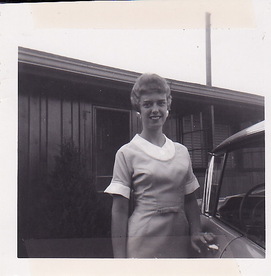 Hard to believe it's been a week since my mother-in-law, Marilyn, died. The best mother-in-law I ever had, as she would kid.

She suffered from Alzheimer's, an agonizing disease that disorients not only the sufferer but the family as well. Everyone's memory is robbed. And the decline is swift, yet gradual enough that you become accustomed to each new version of the person, a process that interferes with your lifelong perceptions and memories of the person you love. A cruel trick that extends the mourning for years. You miss not only her old, healthy self, but the self from just a year ago, when she would recount over and over again how her sisters smoked and drank. I'd be happy to hear those stories one more time.

As we watched Marilyn decline though, there was a goodness at her core that remained pure. Not even Alzheimer's could touch that. She smiled to the end, danced when she could, and just before her ability to speak finally failed her, she was left with three words: "I love you." For weeks, that was all she could say, and she said it generously to everyone she encountered. I'm sure these were her last words because soon after she couldn't speak at all. I don't know what my last three words will be, but I'm fairly certain they will echo with complaint. Marilyn had every reason in the world to complain, but she never did.

That she left us with such simple eloquence is ironic because Marilyn had a tendency to mangle the English language. If someone was choking, you should do the "Heineken maneuver." My daughter, running gracefully down the basketball court, ran like a "gazebo." When a tsunami struck the Phillipines, she talked about that "awful salami." Toy Story for her included the famous character, Bud Light Year. She'd tell us to look up things on "the Google," and referred to Facebook as "see my face." We'd laugh at these mistakes. How could you not laugh? But Marilyn was always a good sport and would laugh harder than anyone.

Even during her regression, Marilyn left us all a lasting gift. At first, we ignored what she was trying to teach us. We couldn't see it. The disease punctured her inhibitions, and she found it hilarious to ask strangers if they wanted to marry her or wash her back in the tub or perform dozens of other inappropriate tasks. We of course would try to discourage this, not only for the sake of the strangers, but for Marilyn, who we thought we were protecting. And for ourselves as well, I suppose. We held on to the dim hope that maybe she'd take our cautions to heart, that she would change. But once she was moved to a Catholic home for the elderly, I finally recognized her lesson, that we should accept people as they are, not how we hope they will be. Soon I began asking her if she wanted to marry me, which she found doubly hilarious. I won't pretend I'm good at this, this unqualified acceptance of others, but I'm working at it, with Marilyn as my guide.