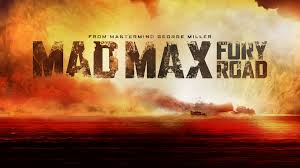 I never quite know what to make of reviews of new music. I usually enjoy reading them. I admire the effort. But describing music with words seems a little pointless. Either you like the music or you don't, and it doesn't take much sampling of an album to realize that a critic's hearty endorsement rings hollow. For you.

Yet. I keep reading them.

Given that paradox, I'm reluctant to write about George Miller's Mad Max, Fury Road because the movie breathes like a symphony. It's orchestral and pulsating and dreamlike, bringing to mind both the quaint past and the dusty future. This is heavy metal amped by diesel bass engines and dirty oil. This is punk grunge armed with spiky treble. This is a brass and string concerto played on a craggy, mud strewn stage. And just when you think a note will be resolved, another flurry of sound ignites and pulls you into a more cavernous mosh pit of tumbling images. I found out afterward that much of the tumbling was stunt work, not computer driven, and now I have to see this again.

The script, the actual speaking parts, is pretty bare. But this only adds to the symphonic impression. And with Charlize Theron and Tom Hardy as nimble band leaders, their movements, their eyes, speak powerfully.

The story is simple. A few hold power over many. And that ain't right. And enough is enough.

This is not the kind of movie you want to watch at home. You need the giant screen and the concert speakers. I did not see this in 3-D because I don't like to be yanked around by what the technicians decide should be in focus at any one point. But I don't think this movie needs additional dimensions.

So settle in with a big tub of popcorn for a couple of hours, which makes for a long movie, but you'll wish there was more.