17 May 2015 headline in Chicago Tribune: "Suburban district urges students to take test." The article reports that 90% of students at Rolling Meadows High School in District 214, did not take the newly installed PARCC tests, based on the Common Core. That's a capital Common, which strikes me as ironic. The Illinois Board of Education is not happy and could, according to authorities at District 214, take away IHSA eligibility. Not sure if this is a real threat from Illinois or if the district is huffing and puffing.

I happened to be at Rolling Meadows High School last week, speaking to their creative writing classes. I talked to one of the teachers there, who explained that students did not ditch on the big testing day. Instead, all of them showed up on time, marched to the testing center, waited to be handed a test, then 90% of them politely returned the test, saying something along the lines of, "I prefer not to." They waited to be dismissed, and when they were, they filed out in an orderly manner.

Someone teach me how to do a backflip right now. I've been waiting decades for this sort of rebellion. I've been rebelling quietly for years, mostly in the form of not paying attention at meetings that hyped new district or state testing standards, or something like that. If I'd paid more attention, I could be more specific. I knew that the meeting agenda would be replaced by a different agenda in a few years, with a new set of revolving administrators, who would spout the importance of new data points and aims.

Here's an example of the absurdity. One year, every teacher in every discipline was supposed to highlight math. As in, how many times does Huck Finn board his raft? We all nodded, hid away in our classrooms, and shut the door.

I always had the urge after these meetings to stroll the neighborhoods around the school and shout to the taxpayers, "Do you know how your money was spent today?" When we could have been in classrooms, teaching, we instead integrated objectives for the 17th time, discussed data, listened to some highly paid expert telling us the worth of things we were already doing. Then we'd have to write down how we were going to implement the practices that we were already doing.

More absurdity. On the first day of school, teachers meet in the auditorium to learn about new tardy regulations and how we must use pink slips this year and not yellow ones for discipline referrals, and on and on. This is usually followed by a pep talk, which we all need by then. One year, the principal pulled out a note from a former student. The student wanted everyone to know how well the school had prepared him for, well, for so many things. A glowing letter full of gratitude and praise. In the next breath, the letter put aside, the principal outlined the changes we needed to implement in the upcoming year. Whoa, hold on a sec…the letter, that kid, what we did, ten years ago, it was, it changed his life, maybe what we've been doing is okay, better than okay, maybe we're on the right track.

Which brings to mind this remarkable truth: teachers are never asked by school administrators what they think. As in, How do you think we could raise test scores? What are we already doing to encourage curiosity? What are the most effective ways to engage students? Do you think we should keep the yellow referral slips?

I'm kidding of course about the yellow slips. Pink are better. But I'm not kidding. Teachers should be consulted also about the mundane day-to-day procedures. We know which rules will rankle students. We know the stupidity of banning Halloween costumes because two or three students the previous year went too far. We know that students will not value a "Pride" award if it's not linked to some particular behavior. We know we know we know, yet we're never consulted. Everything is decided top down, which is especially true of the latest round of government tests.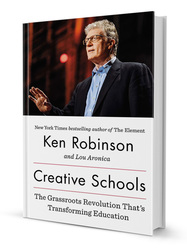 If you want to know how we got to now, read Ken Robinson's latest book, Creative Schools. Not only does he trace the path of standardization from Reagan to Bush II to Obama, arguing convincingly that all the tests have not achieved their intended results, but he offers solid, particular, evidence-based alternative methods that schools can follow to inspire reflection and curiosity, and in turn, achieve higher scores.

My fifth-grade nephew, once terrified by the prospect of days of testing—this in just third grade; why are we doing this to kids?—recently came home and joked that he and a friend would soon have to take the PARCC tests. But no longer cowed by the pressure of a meaningless test, he and the friend reversed the acronym. They would not opt out of the test, as those high-schoolers at Rolling Meadows did last week. But they would be taking, they said, the CCRAP tests.