Yesterday, I wrote a review within a rant about Ken Robinson's book, Creative Schools. I should have known I'd have more to say.

A few years ago, I met Robinson at the National Council of Teachers of English (NCTE) annual conference. I didn't mention this yesterday because I didn't think it was relevant, but I was reminded of a few interesting economic details.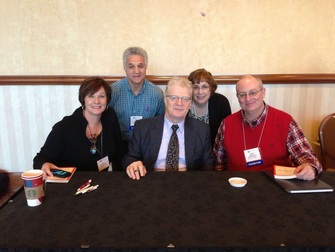 The conference is costly: a hefty registration fee, round trip airline tickets, two to three nights of lodging. I was fortunate enough to have my textbook publisher, EMC, sponsor me and coauthor, Gary Anderson, pictured above on the right. Every year, though, a handful of other English teachers also want to attend because they get to meet some of the best English teachers in the country and share ideas. This is true professional development, not the forced "institute days" that school administrators sponsor, where they dictate the agenda and waste precious time—and taxpayers' dollars—over nonsense. I can't think of a single institute-day task in my 32 years of teaching that directly benefited students. I might be exaggerating a bit here, but not much.
These English teachers who wanted to attend the national conference, my colleagues, they were willing to foot their entire bill. All the district would have to do is hire a $90 substitute. These substitute expenditures add up, sure, but the figures are peanuts when compared to the exorbitant fees districts hire for so-called expert speakers to enlighten us during institute days. Some are better than others, some are worthwhile, but I always felt that the resources immediately around us—other teachers—could have provided equal value, at zero cost.
One last thing to consider. For now. Companies are making a boatload of money in the testing business. Do you think these companies care about students' lives, their goals and interests? They don't even care about students' bubbled answers on the tests, only that states keep nodding and asking for more, more tests, more paper, more profits.
For more details on standardized tests, you have to watch this, the brilliant John Oliver. Warning: you will become infuriated, but you'll understand. And if you have kids in school, you might just join the quiet rebellion against standardization.
John Oliver Clip