As I was leaving the gym today, an old guy with a cane came trudging in. The cane, along with the bright sun that greeted me on this crisp morning, reminded me of my old man. He loved these kinds of days.

Next week he would have turned 95. To witness his reaction to that big number would have been something. He loved to make people laugh and would have whistled and pointed at himself with mock pride to hide the real pride he felt for his resilience.

I would have driven to his house today, surprised him. We wouldn't have done anything. Just sat around in his living room making small talk. He'd mention a light bulb that needed to be changed or a bill that had to be paid, and I'd gladly oblige. Even though I'd arrive hours before lunch, my mom would already be scurrying to prepare that small feast. The meals were spectacular, I admit, but it's the moments before that I miss most.

Sometimes, on days like this one, I'd arrive to find my old man in the backyard by himself. I loved the recognition that lit his face when he saw me. He'd ready himself to stand, to call my mother, but I'd wave this off. That flurry of Mama could wait. I just wanted a few minutes of leisurely give and take with my dad. Today, we would have talked about the sun, the planting of tomatoes and cucumbers and beans that would come soon, how he wished my mom would not devote so much effort toward that backbreaking work. We would talk about the news, and he'd shake his head in despair over the earthquake in Nepal. Those poor people, he would say, visibly upset. I'd ask him about Italy, what he missed. And in his unhurried way, he'd come up with a story or two. About his apprenticeship with a tailor in town that took him away from his family at a young age. About his father, who was murdered during the war. About living in a village without plumbing or electricity. About how he met my mom. He'd become wistful, the memories vivid and moving, as if he were there. And there'd always be a trace of gratitude about being asked to remember.

My old man lived a long life, made it almost to 92. I'm grateful for the time we had, but this morning I'm greedy for more.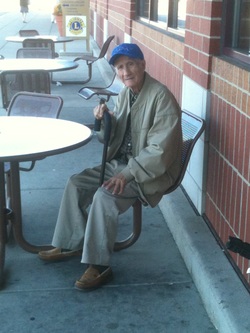 Pop waiting outside Walgreens as I get a prescription filled for him. The pharmacist knew him well.