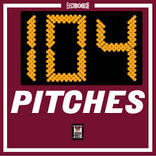 I'm watching the Cubs play the Cincinnati Reds. It's the bottom of the fourth inning. The last pitch was 83 mph, which seems like useful information if you're following the game closely, which I am not. The balls and strikes are also displayed, of course, along with the score. Again, useful. But after each pitch, the pitch count flashes. I hate that. How does that tally help me enjoy the game? If the count is high, do I root for the manager to yank the pitcher? Do I text the manager? Do I call my Cubs friends? Post it on Facebook? Besides, these guys are making tens of millions of dollars. Let 'em throw 300 pitches and get our money's worth.

I know, I know, managers have to pace pitchers so they last the season, but this is the manager's job. I don't need to know the reasons why a pitcher is yanked.

What I hate even more is when they flash the pitch count of a pitcher who comes in, let's say, in the 9th for one or two batters. Really? We need to know this?

I miss the old Jack Brickhouse days, when the score on WGN was displayed in hopscotch-like grids, when pitchers typically hurled nine, sometimes ten innings, worrying more about the score that day than the number of pitches thrown. Did anyone even count back then?

Brickhouse, by the way, was the legendary announcer for WGN. Hey, hey.