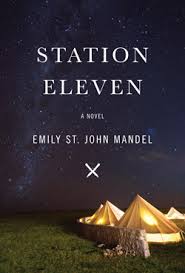 After reading Emily St. John Mandel's novel, Station Eleven, about a flu pandemic that wipes out most of the world's population within a few days, I realized that this might be the first book I've ever read about an apocalypse. I don't think 1984 would count, right? Or Brave New World? In both books, the world as we know it may be gone, but systems reign. But imagine everything coming to a halt in a matter of weeks. No electricity, no fuel, no Internet, no White Castle. You're shuddering imagining a society with no sliders.

If our thoughts ever do veer toward wondering what would happen under such dire conditions—and how can they not, given the shock and awe of headlines about Ebola—the details always remain blurry. It's too damn overwhelming to think about. As I began reading this novel, I wasn't sure I wanted to think about these grim prospects. But I soon realized that, yes, I did. In fact, it didn't take long to be drawn in. Maybe because we all take perverse pleasure in gaping at breakdowns? Or more precisely, Mandel's voice is commanding and eloquent and demands our full attention.

It's no surprise that this book has been nominated for a National Book Award. While the apocalyptic angle is compelling and fully developed, spanning a period of about fifteen years, Mandel also depicts how particular lives remain intertwined. You wonder throughout how the seemingly disparate pieces will fit together, but in the end, they do, beautifully. It's an ambitious story, and Mandel's vision is sparkling.

By the way, I heard on the radio yesterday that nearly 25,000 people died last year as a result of antibiotic resistance. Yet, we don't hear much alarm over this. As of this writing, one person in the U.S. has died from Ebola. We're all pretty stupid when it comes to worry.