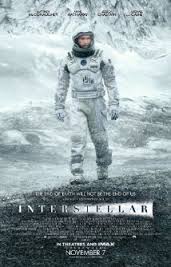 Interstellar is an apt title for this broad, bold, majestic movie. Before I headed out to see it, I'd glossed over a few reviews (glossed because I only ever want a general impression), and the consensus seemed to be: see this movie in an IMAX theater to fully appreciate its cosmic sweep. Well, I'm not sure I agree entirely. The slick cinematography requires a canyon-sized screen, yes. But I went to an AMC theater, in the middle of remodeling, everything new where I sat, with state of the art equipment, presumably, but the sound was terrible. Oh, it was loud all right—my ears bled, my elbows rattled—which was fine during action sequences, but much of the time I couldn't hear the actors speaking during the thumping bass. And, you know, I like to know what's happening, how the story is progressing.

The reclining leather seats were so plush that during quieter moments in the film, I had to listen to the guy behind me snoring. I was tempted to throw popcorn at him, but that didn't seem wise. I didn't care to be a headline. So after an hour or so, I moved, which made me feel like a schoolboy because the seats at this revamped AMC are assigned when you buy the ticket. The old woman in line in front of me hated this as much as I did and wanted her dissatisfaction reported to the manager.

Back to the movie. Did I mention it was loud? Rollercoaster loud. And when the actors weren't talking, this made for one hell of a ride. Buckle up. Yank me wherever you like. Because there's no way to predict where the next turn will take you. The entire movie is wildly imagined—this is the same Christopher Nolan who brought you Inception—and firmly in control. Much of the time, you won't be able to follow where you've even been—I'm guessing Nolan didn't always quite know either—but it doesn't matter. Kick back and enjoy the fun. Just don't recline and fall into a snoring slumber.

The story is not meant to be linear or fully understood, I think, because it's about black holes and wormholes and the harnessing of gravity and potential life in other galaxies. Even if you understand the physics tossed around, you'd still need to mute the analytical side of your brain and give in to the stunning visuals and sit there and admit, well, yeah, maybe, could be…who knows? (I had a harder time doing this with Inception because I know a bit about the psychology of dreams. How does the science hold up in this movie? I'm not sure, but from what I've read, scientists point out a few flaws but insist it's far more plausible than the movie Gravity.)

There are some big name actors here, all holding down the galactic fort pretty well. Matt McConaughey appears in about every shot and will probably earn another well deserved nomination at Oscar time. Jessica Chastain could earn another for best supporting.

The movie is almost three hours long, well worth your time though. And there are plenty of quiet, floating in space moments for a bathroom break. Finally, don't worry about being confused now and then. You're meant to be. By the end, everything falls together nicely. Here's the irony. The interstellar story, stunningly beautiful, becomes secondary to the personal one involving one small family trying to eke out a living on a dying farm.