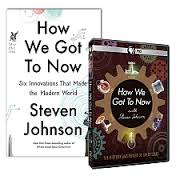 You may have heard of this book because of the companion PBS series: How We Got to Now, by Steven Johnson. The book is part history, part science, and reads like a detective novel.

Here's an example of the fascinating connections that Johnson weaves, what he calls the Hummingbird Effect. In the 1440's Guttenberg created the printing press. Before this, not many people read; thus, not many people knew they were farsighted. This knowledge, along with the increased opportunity to read, created a demand for glasses, which inspired a surge in lens research, which led to the invention of the microscope, which ultimately led to the study of cells in the body. If this alone doesn't make you want to go out and buy this book, I don't know what else I can add.

Okay, I'll add this. In a related thread, the fall of Constantinople in 1204, which I believe is Turkey now, led glassmakers to migrate to Venice. But since Venice included many wooden buildings that could easily catch fire under the intense heat needed to make glass, these craftsmen moved to the nearby island of Murano, where they refined glass, which led to the invention of lenses (which comes from the Latin lentes, or lentils, because they have the same shape), which led, again, to the microscope, and you know the rest.

I was a poor history student in school. Mostly my fault. But I wonder if I would have been less sleepy-eyed and slack-jawed if these sorts of connections were taught. Nah! My mind was mush. Not 1960's hippy mush. I just needed more time to incubate. I'm a slow learner. Steady but slow. Even today I don't feel fully hatched.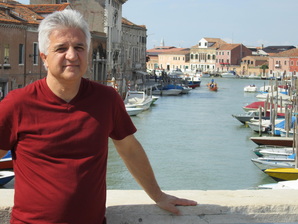 Incidentally, I visited the beautiful island of Murano a couple of summers ago. Those craftsmen are still there, part of a vast lineage that has contributed quite directly to the study of diseases. I wonder if they even know.