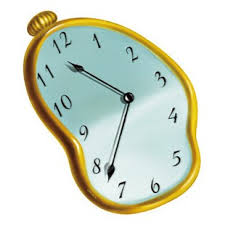 This past Sunday at 2:00 a.m., we Illinois residents pushed back the clock an hour. I mention Illinois because I know some states don't mess with this twice a year ritual. And no, I didn't stay up until 2:00 to adjust the clock. It's one of those annoying yet satisfying tasks I tackle bright and early upon awakening, satisfying because it feels like I've been given a fresh start, a reboot.
But there's something peculiar about the resetting. For example, I keep the clock in my car eight minutes fast. When I "fell back" on Sunday, I changed only the hour. While I was at it, I could have easily adjusted the minutes too. It's not as if, when I glance at the clock in my car, I'm fooled. I know precisely how fast and I make the quick calculation each time I look at it. I suppose the illusion of an extra eight minutes provides some level of comfort. Or maybe this is a throwback to a time when clocks ran a bit sluggishly with each passing day, and I'm trying to stay ahead of that? My little insurance policy.
But when I reset the clocks in my kitchen, I made sure that those were set to the correct time. Which is a bit tricky with the digital stove clock. I checked the correct time on my phone, set the time on the stove, then had to press ENTER for the clock to begin its "ticking." But by the time I pressed Enter, what if time had advanced a minute? Then my stove clock would be a minute slow. Which would cause some consternation. Think about it: do you know anyone who intentionally sets their clocks too slow? I could just set the digital kitchen clock one minute fast, or eight minutes fast for that matter, and do the mental subtraction that I perform in the car, but I feel this compulsion to keep the kitchen clocks accurate. And I don't know why!
About ten feet away from the kitchen, there's another clock in the living room, but because it uses double A batteries, the time is always a little off, so I usually set this one about three or four minutes fast. But I never care that this clock is unreliable. As long as I'm aware of its unreliability, I'm okay.
My wife's alarm is set 40 minutes fast! She presses the snooze button about five times before dragging herself out of bed. According to my logic, if the time on her alarm were more accurate, she'd be able to gain an extra 40 minutes of uninterrupted sleep. But logic, as I've described above, plays little role in how we feel about time.
Throughout the day on Sunday, whenever I glanced at the clock, it was always, well, about an hour earlier than I expected. This was a warm luxury, an unexpected gift. I could kick back and spend a few more minutes reading the paper and filling in the crossword puzzle, and when I was done, I still had plenty of morning left.
Neuroscientist David Eagleman has conducted clever studies on our perception of time. You can find his site
HERE
. (Look for the
New Yorker
article that featured him.) And psychologist Philip Zimbardo has delivered a TED Talk on how our attitudes toward time affects our happiness and success, and you can find that link
HERE
.
Right now I feel as if I've spent enough time thinking and writing about this. I've read that sitting too long is not good for the body. Also, I'm looking forward to marching upstairs to find myself a snack. This looking forward has certainly altered my perception of how long I've been sitting here. And my perception, of course, would be altogether different if I had to march upstairs to grade a set of papers. This logic I understand.