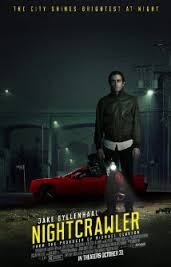 The title Nightcrawler refers to hustlers with police scanners who rush to crash sites and other gory scenes to collect footage that they can sell to local news stations. Jake Gyllenhaal (try spelling that name without looking it up) plays Louis Bloom, a snake of a character who quickly learns how to thrive in this cutthroat business.

Keenly aware that this psychopathic crawler has no conscience, we in the audience are usually a step ahead of the plot, which might seem like a flaw. But it's not. What this achieves, which is a creepy little trick: we know what he's going to do. We understand him. We're in his head. Or more to the point: he's in our heads. And when Bloom does exactly as we predict, there's a heightened sense of doom, as if we've participated. Well, maybe not quite that, but we are with him, reluctantly, which is awfully gripping.

Gyllenhaal lost almost thirty pounds to prepare himself for this role, based on a real nightcrawler, Weegee, from the forties. (You can read about Weegee in the November 10 issue of The New Yorker or find his 1988 book, Naked City.) The lost weight makes Gyllenhaal's eyes look startled and desperate, leaving the impression of an actor inhabiting a role, rather than playing one. I don't know if I've ever seen a more realistic portrayal of this depraved state of psychopathy, which remains consistent from beginning to end.

Nightcrawler Bloom does hire a sidekick, Rick (played by Rick Garcia, I think), who does the necessary work of voicing all the questions that we in the audience want to ask. His performance is low key, unassuming, and always convincing. A little subtext about his life would help stir more empathy toward him. But maybe this is director Dan Gilroy's intent all along: to keep our focus almost solely on the main character.

I highly recommend this flick. Though I do have one qualm. I suggest you skim this next section until you see the movie. Then come back. It's not quite a spoiler, but it might heighten your awareness at a time when you should be simply lost in the action.

Anyway…

If you haven't seen the movie…

Stop. Put your pencils down.

I have a problem with the ending. The epilogue, I guess you'd call it. The very last shot. Without being too specific, I'll say this: we're left with theme rather than plot. We're left with a condemnation of television news, which the rest of the movie deals with exceedingly well (though maybe overplayed a bit). The focus should be on this hungry wolf we've been with for two hours. I'm not talking about remorse or epiphany or justice, but something. Some small glimpse into what all this means to him. We know the answer. Just some confirmation. Instead of walking out of the theater feeling haunted and creeped out by this guy, we're let off the hook. As if Gilroy didn't want to leave us with nightmares.