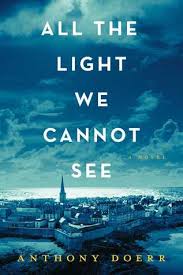 I go through spells when I ignore fiction. Then I ache for a novel I can savor. Well, I have found one: Anthony Doerr's All the Light We Cannot See. I found myself handling the book gently, reading slowly, pausing, flipping back to previous sections. This is a masterful work.

The narrative switches back and forth between a young blind girl living in occupied France and a German cadet in training with the Third Reich. The chapters are short, the drama is intense, the truths are precise. A lovely book.

In nonfiction, I just finished Robert Hilburn's biography, Johnny Cash: The Life. I haven't read much about Cash, so I can't say this is the definitive bio, but it's damn good. The details are so richly conveyed that Hilburn doesn't need to offer psychological theories about what drove Cash. He doesn't need to provide lofty sociological frameworks. He simply tells the story and trusts the reader to understand why Cash was so driven and often lost and always taken with the downtrodden in our world.

I didn't realize that some of Cash's best known hits were recorded when he was in his 20s. I did know that some of his best work was recorded during the last few years of his life, and the section on his collaboration with Ric Rubin is especially fascinating. Even if you're not a big Cash fan (and if not, just listen), you will still enjoy this story.

After I finished the book, I happened to catch Walk the Line on television. I liked the movie when I first saw it, but after reading the bio, the movie strikes me as caricature. Read the book. And listen to When the Man Comes Around or his version of Hurt.