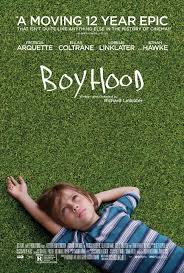 If you haven't heard about Richard Linklater's newest film Boyhood, you need to check it out. He began filming when the main character, a boy, was five years old, and every year for 12 years, he assembled his cast for a few days to shoot additional scenes. As the story unfolds, we watch the boy grow into a pensive teen.

A few questions arose while watching, to which I didn't know the answers because I avoided any behind the scene glimpses. For now, I still don't want to know. I'm still awash in the magic of the transformation, and that's good enough. But here are my questions. When Linklater selected this particular boy, Ellar Coltrane, how could he know that the boy would be a convincing actor 12 years later? I think about Ron Howard, who was wonderful as Opie on the Andy Griffith Show, but who became cringe-worthy much later on Happy Days. Also, how much of the script was planned? As they saw how Coltrane actually matured, did they use his looks and demeanor to fill in the storyline? I don't think I'm ruining anything by mentioning the changes in hair length throughout the movie. Was the hair a real length every year, or did Linklater say, "Hey, kid, next time I see you, look like a hippy."

Although the boy is the main character, the movie could have been called Fatherhood or Motherhood because not only does the boy grow before our eyes, but so do his sister and parents and step-parents. And since we understand the boy so well, we also understand those around him.

When the mom, now divorced, hooks up with a man we know is wrong for her, we also know why she needs his stability. When the dad, who sees his kids only on weekends, can't get his kids to open up, we understand both sides. Years later, when the dad mellows, shown via high-hitched trousers, we understand this too well because we've seen this in ourselves or our friends. Well, not me. I've been fairly tame my whole life. I feel as if I need to break out the other way and get me a Harley.

I've been thinking about why this movie has stayed with me for days now. Have you seen the Youtube video of this little girl, about four years old, bawling because her infant brother will one day grow up? She shrieks! She doesn't want him to grow up. It's hilarious because it such a mature sentiment coming out of this toddler, and it's a pain we've all felt. Well, you feel similarly as you watch this movie. You know the boy is going to age 12 years. (This much I knew ahead of time.) You know there's no halting the years. You have to sit back and let time pass, holding at bay your sometimes intense curiosity about his future. By the end of the movie, you want more. You've been sitting there for nearly three hours, and your curiosity doesn't simply end when the movie does.

For the past few months, I've been experiencing a similar type of wonder. I've been transferring old home movies onto DVD. In order to do this, I have to watch the old VHS tapes in real time, watching my three girls as infants, then toddlers, and I'm now up to the little girl stage. It's 1994, and I know what's going to happen in the next 20 years. Yet I'm still searching for clues about why they turned out the way they did. And I can identify with the Youtube girl, screaming to freeze time. I can't. I wouldn't if I could. I love what they've become. But it's all too much to take in sometimes.

The movie, in the end, does provide pointed perspective on all this, which is a comfort actually. A thing to savor.