Not long ago, we had to move my mother-in-law, Marilyn, into an assisted living facility. The place is warmer than the word facility suggests. It's run by Catholic nuns and a battalion of Slavic women armed with mops and towels over their shoulders to wipe their brows. When I mention the move to others of a certain age, they usually nod in understanding. They know firsthand how hard this can be. They know also about the challenge of dealing with the loved one's belongings. Their stuff. We talk about estate and garage sales. The many trips to Goodwill. The claiming of particular things by family and friends and neighbors.

I've been most fascinated by this last challenge. What items are taken, what becomes a discard. Since I'm mostly retired and not working in the summer, I've been the one driving to thrift shops for The Stuff's final destination after it's been picked through. No, we don't want that cup, that paper shredder, that rickety ladder, that Christmas tree. But as I'm loading boxes, I find myself unwilling to part with certain things. Not so much because I want them, but because at one time or another they meant something to Marilyn or her husband, Marty. At least this is what I imagine.

My favorite item I've taken is a spatula. Just an ordinary kitchen tool. But I picture Marilyn, who loved to wait on others, poking at wedged potatoes or turning an omelet for Marty, who loved to be waited on. In this sense, they had a pretty darn good marriage! She probably didn't pay much attention to the utensil in her hand, but I do now, dearly. I imagine the fluid deftness of her movements, the care she attached to what she was making.

When I had to clean my parents' home two years ago, it's no surprise that I came away with a couple of similar utensils from their house. I don't use them often, but when I make taralli, this is what I dig out of the kitchen drawer: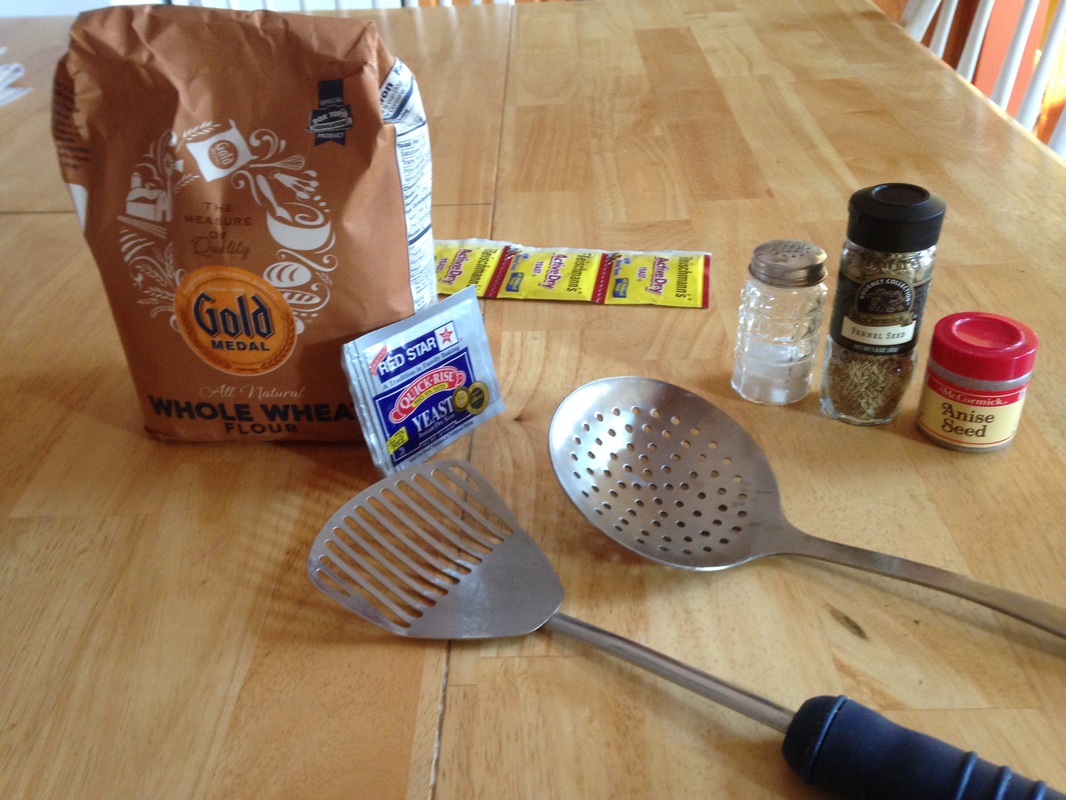 I also took a few dish towels from my mom's house. I'm reluctant to admit that years ago I stuffed one towel into a mason jar to retain its aroma, reluctant because this strikes me as a little desperate. At the same time, I'm glad to know the jar is downstairs, waiting for me to unseal it one day.

I took a few saint statuettes, too, and have them scattered around my house because I knew what they meant to my parents. I took a large spool of thread and scissors from my father's tailoring supplies. I can't bring myself to throw out their canes, though I want to. I spent the winter after they passed wearing my old man's coat, which I've written about before. I took a salad bowl we use often and a bowl for Romano cheese for when guests come over.

Speaking of dish towels, Marilyn had, I'd guess, 200. I imagine her in Montgomery Ward's back when keeping house was something like a calling for her, browsing through ribbed cotton towels and apple-patterned softer ones, deciding and thinking, Yes, I could use another towel. Did she realize how many she already owned? Would she ever have enough? What did her collection mean to her? I did save four or five of her towels, stuck them under our sink to use, but towels are not that distinct to me, and I've already lost track of which ones are hers.

I took some of Marilyn's jazz CDs, too. When I play one, I imagine the contentment she felt as she sang along, but only when Marty wasn't home. He was a gifted musician who could not stand his wife's off-pitch wailing. The irony is that Marty rarely listened to music and probably never played piano, at home, for himself, which probably smacked of work. When he had guests over though, he and that piano came alive. His daughter now has his piano, and I wonder about her sentiments toward this instrument she sees every day.

I also saved a painting of a violin that hanged above the piano, not that Marty probably took much notice of the painting. Still, it was something he took in each day, at some level, and I want to continue to see that same image.

I took a wide sauté pan that no one claimed. My fervent wish: that Marilyn could stand next to me now, warning me about the height of the flame and suggesting when to add oregano and pepper and when to let food simmer undisturbed.

I've been wondering about my own things, too. What will my garage sale look like? Which of my things will my family want to keep—or discard without a second thought? Would their choices surprise or appall me? Let's see, I don't write in my books, so I doubt that many of my books will be kept in the way I describe here. Besides, there are too many, and most will have to be given away. While I don't mark up books, I do often write on jumbo note cards that I use as bookmarks. Maybe there's some random note in one of the books they'll want to keep? I don't have a favorite mug, I don't wear slippers, I don't feel a particular connection to any kitchen item. I'm glad I won't have to make these decisions myself.

These legacies of daily life can be powerful, tapping into grief that seems to be right there without notice, or joy or nostalgia or a number of other feelings. But it's probably best not to think too long on your own things and what they might mean to others someday.

It comes as no surprise that I feel compelled right now to march downstairs to clean our so-called storage room, but also dread.