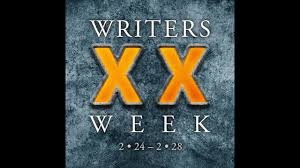 If you've been following this blog for a while, you've read about the magic that is Writers Week at Fremd High School in Palatine, Illinois.
Twenty years ago, my good pal, Gary Anderson, and I, with a hearty budget of $250, invited a few local writers to speak, convinced a handful of students and teachers to bare their souls on stage, and ran blindly with the idea of celebrating writing. I remember calling teachers the night before, begging them to bring their classes to the auditorium so we could fill more seats. I remember us sheepishly handing $15 checks to writers to reimburse them for transportation expenses. I remember us writing letters to administrators afterward, trying to convince them to extend the week the following year to all periods and not just lunch hours.
Twenty years later, because of generous support from our boosters, our budget runs into the thousands. About 90 students take to the stage each year, along with nearly 20 faculty members—and not all of them are English teachers. Every period, for eight periods, all week, the auditorium in packed. Gary and I have spoken with teachers from other schools across the country, and there are now a dozen or more schools hosting their own Writers Week.
All of this is pretty cool and beyond gratifying. But what had me beaming last week, as I hung around school for WWXX (I recently retired), was this assurance that, with Gary retiring
this
year, Writers Week will be in able hands.
I feel as if Gary and I have been mowing this lawn for twenty years, and each year the swaths have become greener and lusher, only because so many others have contributed tirelessly, trimming and edging—yes, this has been a community pasture—but we always wondered about
now
, after we both moved on to graze other pastures (OK, enough with the grassy metaphor already; can you tell I'm aching to see green?), and I couldn't be more pleased that this simple idea of providing a forum for voices to be heard will continue to thrive. Not merely continue, but thrive, baby. Thank you, Gina. Thank you, Russ. Thank you all who stepped up and who will continue to step up.
If you want to peek at a video archive of WWXX, click
HERE
.
If you want to read Gary's blog about WW, it's
HERE
.
The Twitter hashtag: #wwxx.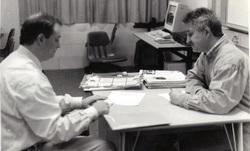 It was 20 years ago today...

Or something like that.

Gary on left.

We haven't changed at all.