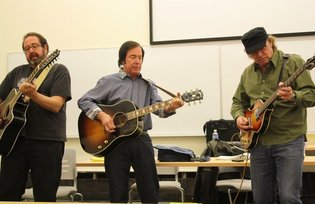 I'm teaching a Beatles class!
I still can't quite believe, that twice a week, I get to meet with about 40 students at a local community college to teach a Beatles class. Co-teach actually. With author and good pal, Greg Herriges, a founding member of the 70s band Athanor, who is suddenly garnering attention for reissues and new songs, which is remarkable and beyond exciting. You can find info on Greg and his band/books at
Herriges.net.
What reminded me to finally post something about the class was this
Chicago Tribune
article that ran today:
Beatlemania
.
The article was also picked up by an international Beatles fan site:
Beatlesnews.com
. So Paul and Ringo should be reading about us any minute now.
To give you some idea of what we do in class, here's what we recently covered. We devoted an entire class period, about two and a half hours, to the theme of Place. We first analyzed Wordsworth's
Tintern Abbey
poem, his reverential ode to this peaceful locale in nature he once visited five years prior. Then we read Billy Collins's parody of Tintern; maybe parody is too strong a word, but his take is much lighter, which provided some relief to Wordsworth's gravely serious tone. Then we discussed Bruce Springsteen's
My City of Ruins
, which became an anthem for NY after 9/11. We finished with a lively discussion of
Strawberry Fields
and
Penny Lane
. Finally, we had students write their own short poems about the place where they grew up.
Are you jealous? I'm
teaching
the class and I'm feeling a little of that. Maybe not quite jealousy. But a feeling of contentment washes over me fairly frequently as the music pours out of these concert speakers we have in class. Before I started teaching the class, I worried that this immersion would dull the music in some way. But the contrary has happened. Slowing down to read each line of
Eleanor Rigby
or
Revolution
has only infused the songs with a newness that rekindles my fascination with the magic that is the Beatles.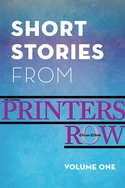 The Tribune article mentions a story that I read in class on our
Sergeant Pepper's
day. It's actually an excerpt from a novel I hope to publish soon (
soon
is a relative term in publishing; my
soon
does not resemble theirs in any way.) Anyway (did you see how
any way
became
Anyway
? Reminds me of the Beatles song,
It Won't Be Long
: "It won't
be long
…till you
belong
to me.)…Anyway, a while ago, the same
Chicago Tribune
ran that excerpt in their
Printers Row
Sunday supplement, and they're offering for sale a collection of the stories they've printed these past several months. It's a pretty impressive list of authors, and I'm honored to be part of that. You can find the collection here:
Short Stories from Printers Row.
Or you can read the excerpt if you sign up for the Beatles class next term. How lucky am I.