A few days ago here, I wrote about how a movie seems to become better or worse for us over time, like either milk or wine. What I've been wondering about today is how our appraisal of a movie changes, even before we've seen it! What judgmental fools we all are. I'd been hopeful about Walter Mitty, but when it finally came out, there was one collective shrug from both critics and friends of friends of friends, and I did the same. Another Martin Scorcese movie with Leonardo DiCaprio seemed like a sure shelling out of $9, but I still haven't seen Wolf of Wall Street, and I'm not sure I want to, even after the Best Picture nomination.

The same thing happened to me with Saving Mr. Banks. Seemed like a promising concept, though I've never quite watched Mary Poppins from beginning to end and didn't feel any particular connection to that movie. I like Tom Hanks, but talk about overexposure, which I also wrote about a few days ago. And I have mixed feelings about the Disney brand. For these and other mostly irrational reasons, the movie quickly lost its luster for me.

But yesterday I came across a movie gift card I'd forgotten about and just wanted to see a movie, a near-daily impulse, and said, what the heck, Disney it is. And what a pleasant surprise. (Maybe that's the key. Lower expectations. Marketers should try this. Instead of the booming trailer guy's voice, let Woody Allen do the voice-overs. "The movie's OK. It's really really OK. Maybe not Ten Commandments OK, but it'll do in a pinch. If you want to sit for two hours, you might as well sit in front of this picture.")

One of the questions I ask myself: Is this a movie that needs to be seen on a big screen? That was another strike against Saving Mr. Banks because I decided, No. Again, this is before I'd seen it. But the movie is stunningly beautiful. Don't wait to watch it at home, even if you have 3-D, Hi-Def with 24K gold plated cables. I'm shocked that the movie didn't get a Best Picture nod or a Best Acting nomination for Emma Thompson, who is remarkable in this.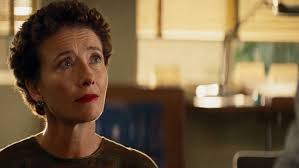 The movie flashes back and forth seamlessly between Australia 1906 and London / Los Angeles 1961, an ambitious ploy that works extraordinarily well. Thompson's character, Mrs. Travers, the author of Mary Poppins, wary of a Disney adaptation of her book, is impossible to please, which will have you smiling throughout because Thompson is so good. As the cause of her surliness unfolds, via the flashbacks and Disney's persistence, the movie comes together powerfully and movingly. This movie should soar to the top of your list for movies to see.

Confession. The movie began at 7:10. Wolf of Wall Street began ten minutes earlier, so I poked my head in and was ready to abandon Disneyland for Wall Street if I was drawn in. The first five minutes are pure Scorcese, with the camera swiveling around expertly and the sudden freeze frame with the voice over, but I'd had enough. The main character was doing something with a straw and a woman's posterior and drugs(?) that I didn't need to see. It might be blasphemous to suggest this, but I think some of Scorcese's work is overrated. Slap another director's name on this current movie and replace DiCaprio with a no-name talent, and no one pays attention to this movie.