What do four guys talk about on the way home from a Chicago Blackhawks game? Among other things, fast food. Nate recalled the times he would be drawn to Taco Bell, McDonald's, or KFC. We passed a White Castle's and everyone groaned, only Brian not ever having tried that particular delicacy. Karl insisted he had to try it, to torture himself at least once. As I sat there, I realized I NEVER have a yearning to pull into any of these fast food emporiums.

But I do have one weakness. When I was a kid, Mama made her own red gravy, pasta, and bread. If we'd had a cow, she would have milked the cow every day and pasteurized the milk between loads of laundry. So it's not that she banned fast food. The prospect simply never presented itself. But one time when I was in 7th grade, on an after school field trip I think, the chaperone decided to stop at Burger King, and that's when I tasted my first Whopper. My mouth still waters when I recall that first delectable bite, the best thing I'd ever eaten, I thought. As anyone who has eaten a Whopper knows, however, the last bite is never quite as good as the first, and that last swallow is always filled with tangy regret. But that initial memory has stayed with me, and every now and then, maybe once a year, I pull into a Burger King drive-thru, unable to tear myself away, lured into reliving the thrill of my first time.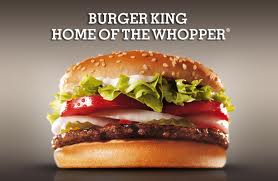 This is not a paid endorsement. Or an endorsement of any kind.