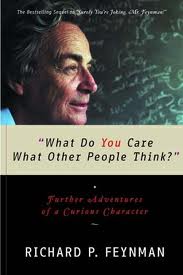 How's this for a great book title: "What Do You Care What Other People Think?" The one posing the question is Nobel Physicist Richard Feynman. He addresses this question, along with other intriguing mysteries, including why the space shuttle Challenger exploded. Anyone familiar with this disaster knows full well about the failure of the shuttle's O-rings, but most don't know the story of how the O-rings became the focus of the investigation, which is fascinating and which is ultimately a story about human failings. Feynman was the guy who helped direct the investigation toward these little pieces of rubber.

He also explores mysteries such as the atoms in the phosphorous tissue in our brains, half of which are replenished every two weeks. How do the new ones know what to do!

Feynman's writing can be clunky, but his voice in these brief essays and letters is true. And he's not afraid to show his vulnerabilities. The sections on his first marriage are particularly moving. More than anything, the book will leave you with a sense of wonder about nature.

I'll end with an inspiring passage that is categorically not clunky:

"It is our responsibility as scientists…to proclaim the value of…freedom; to teach how doubt is not to be feared but welcomed and discussed; and to demand this freedom as our duty to all coming generations."

DOUBT IS NOT TO BE FEARED BUT WELCOMED.
Why does this idea make so many feel uncomfortable?