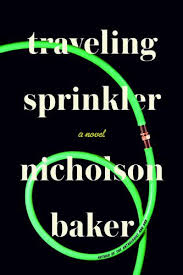 About a week ago I posted a couple of reluctant recommendations. I have another. Nicholson Baker's Traveling Sprinkler. The reason for my reluctance: the book reads more like a series of meandering blog entries than a novel. Not much happens, other than the smoking of cigars, the eating of mixed nuts, the sprinkling of lawns, and other mundane activities, all of which unfold loosely and as if on a whim. When plot does appear, the book becomes endearing and sweet.

So why am I recommending the book? The narrator, Paul Chowder, is a poet who, without a hint of pretention, observes his world with such precision that you feel as if you're on a calm expedition with the most able tour guide. As an aspiring songwriter, the narrator offers especially intriguing observations about the composing and appreciation of music, returning often to Debussy—and then he ties such observations to other astute observations about politics. Did you know that the poet Archibald MacLeish helped establish the C.I.A.?

I usually need a little more plot, but this quirky book kept me turning pages and always thinking.