A former student of mine sent an email a few days ago asking if I wanted to participate in a friendly exercise of choosing my top 100 movies. Of course! He and a few friends were compiling their lists and they wanted to spread the cheer, and I will do the same by asking you to submit your own lists here. If you can't think of 100, then try 50 or even your top 20. I couldn't stop at 100 so I added one more.

The task is a challenge but satisfying. My first 25 are in order, though that will change from day to day. For example, I switched the two Godfather movies, placing the original higher. After I thought about it, I like the original's spare plot and the unfolding of Michael's character. The remaining 75 are more or less random in rank.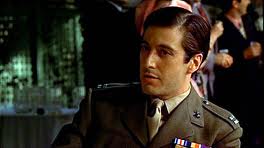 Placing the two Godfather movies in the top ten seems almost cliché, so I thought I'd at least offer some rationale: THEY ARE DAMN GOOD MOVIES. That should be enough, right? You don't have to defend what you like. I could talk about the soft lighting and the cramped sets and the way the camera crawl-zooms in on a still Michael as he begins to redefine who he is. I could talk about the acting and the writing and the way no music plays during the violence because Coppola didn't want to stylize that; he wanted you to know the brutality and still somehow get you to root for these characters. No, I won't talk about any of those things. (What about the third installment, G III? I've tried about five times, but I can never watch more than about 20 minutes. It always feels sterile to me.)

What's fun about creating the list is that you create other categories, which I've included below. When I asked my daughter, who studies film, to think of her own list, she said she'd rather make a list of top television shows, so that'll be the next post.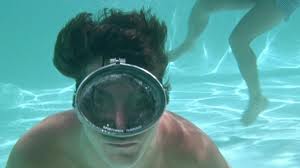 Top 101 Movies

1. Godfather
2. The Graduate
3. Vertigo
4. Psycho
5. Godfather II
6. Groundhog Day
7. Moonstruck
8. Chinatown
9. Cast Away
10. Stranger than Fiction
11. To Kill a Mockingbird
12. The Third Man
13. Casablanca
14. Truman Show
15. Cool Hand Luke
16. Black Stallion
17. The Man Who Would be King
18. Roxanne
19. Brazil
20. On the Waterfront
21. Singin in the Rain
22. Sound of Music
23. Being There
24. Life is Beautiful
25. Toy Story 3
26. Dr. Strangelove
27. Monty Python's Holy Grail
28. The Good, The Bad, and the Ugly
29. The Last Detail
30. Raging Bull
31. Schlinder's List
32. It's a Wonderful Life
33. Some Like it Hot
34. One Flew Over the Cuckoo's Nest
35. Bridge on the River Kwai
36. Rocky
37. Butch Cassidy and the Sundance Kid
38. Sixth Sense (his only good movie)
39. French Connection
40. Modern Times (the first half)
41. Cinema Paradiso
42. Body Heat
43. Batman Begins
44. Touch of Evil
45. Strangers on a Train
46. Annie Hall
47. Monsters Inc
48. Stand by Me
49. Beautiful Mind
50. Rain Man
51. Double Indemnity
52. High Noon
53. Young Frankenstein
54. Big
55. Manhattan
56. Halloween
57. Citizen Kane
58. Lost in Translation
59. Best in Show
60. No Country for Old Men
61. Revolutionary Road (but so sad I wouldn't recommend to anyone)
62. Ghost (I'm embarrassed to admit)
63. Purple Rose of Cairo
64. Last Picture Show
65. Places in the Heart
66. West Side Story
67. 12 Angry Men
68. The Conversation
69. Jaws
70. Raiders
71. Skyfall (and two Bond movies before that)
72. Raging Bull
73. Notorious
74. Exorcist
75. Streetcar Named Desire
76. Across the Universe
77. Meaning of Life
78. Funny Farm
79. Shadow of a Doubt
80. Shawshank Redemption
81. Spiderman (not sure which is which)
82. Star Wars (first one out)
83. Superman (I'm a sucker for most of them)
84. Diner
85. Finding Nemo
86. Romeo and Juliet ("musical")
87. Hud
88. Rear Window
89. American Beauty
90. When Harry Met Sally
91. His Girl Friday
92. Deliverance
93. Rome: Open City
94. Duck Soup (or some Marx Bros movie)
95. Minority Report
96. Naked Gun
97. The Pink Panther
98. Caddy Shack
99. The Odd Couple
100. Blues Brothers
101. Cocoon

Movies everyone else seems to love that I could not get through or did not love

1. The Shining
2. Iron Man 3
3. Jurassic Park
4. Gone with the Wind
5. John Wayne movies
6. As Good as it Gets
7. Three most recent Star Wars movies
8. Matrix
9. Dark Night
10. Good Fellas
11. Scarface
12. Shutter Island
13. Hugo
14. Austin Powers
15. Adam Sandler movies

Movies that I enjoyed after I saw them but not so much after time

1. American Graffiti
2. Tootsie
3. Superman scenes with Gene Hackman as Lex Luthor
4. Heaven Can Wait
5. Dances with Wolves
6. Silence of the Lambs (though I haven't seen in a while)
7. North by Northwest (can't get by the poor back-screen projection)
8. Edward Scissorhands
9. Close Encounters of the Third Kind
10. E.T. (maybe just need to watch again)
11. Back to the Future
12. King Kong
13. Pleasantville
14. Top Gun
15. Avatar

Movies I hated when I first saw them but now like

1. Blazing Saddles
2. Carrie
3. Citizen Kane (but still didn't make my top 100)



An addendum: I love the snow scene in Citizen Kane when he's taken away from his parents. For that reason alone, I'm adding CK to my top 101. I'm not going to say which one I took out.