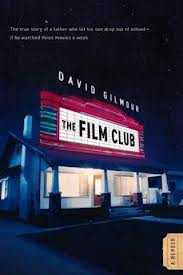 If you like coming of age stories, if you're fond of fast paced memoirs, if you're a movie buff, if you've ever had issues with your parents or your children, if you enjoy reading about the turbulence that is family, then you will love this book: David Gilmour's The Film Club.

Gilmour's 15-year-old son, Jesse, struggles with school, which is fairly typical, right? But Gilmour's response is anything but ordinary. He allows his son to drop out of school, provided that Jesse agrees to a different sort of education. He has to sit down with his old man on a fairly regular basis to watch movies. An education gleaned from movies! From discussions on The Godfather and The Bicycle Thief and On the Waterfront and many more. I can think of worse ways to learn about the world.

What movies to choose? In what order? How much do you explain and how much "education" do you allow the boy to pick up on his own? Do you assess? Gilmour asks all these questions and works through his "lesson plans" in his own plodding way—because to implement them in a systematic manner threatened to shut down any learning.

The book makes you wonder about the regimentation that has reigned in schools for the last 100-plus years. I'm not sure we're ready for an all-cinema alternative, and I'm not sure how this particular story would have ended if Jesse had been forced to stick with school, but the questions Gilmour asks are worth our consideration.

My only disappointment while reading. Every time I searched on Netflix to find a movie mentioned, I came up empty—I'm referring to the instant access feature. Does anyone know a better subscription option?