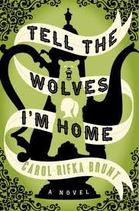 Fourteen-year-old June Elbus, the narrator of Carol Rifka Brunt's engaging first novel, Tell the Wolves I'm Home, strikes me as a cross between Holden Caulfield and Scout Finch. If you're not familiar with these references, stop reading right now, hang your head in shame, then haul yourself to the library. June is less brash than Holden and more daring than Scout, but she shares these other characters' charms and their sense of wonder, especially regarding the mystery of where they best belong in this wide and often brash world.

If you're over 35, you'll be familiar with the late 80s setting, when the little known virus called AIDS wormed its way into our awareness. Very few people then knew how the disease could spread, and as a result, superstitions and intolerance reigned. June's godfather and uncle, Finn, whom she worships, contracts the disease and must deal with his own mortality and the increasing distance from his family.

Young June is the only family member who remains close to her uncle, and that's why this book works, because of their sweet and endearing bond. Though she's often immature, she sees the world more clearly than everyone else. And so we root for her. We feel privileged to know her. Which is a familiar feeling for me. I've known plenty of young people who possess this sort of wisdom. And Brunt captures this all beautifully.