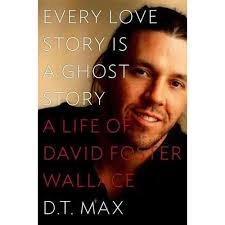 When I started reading D.T. Max's biography of David Foster Wallace, Every Love Story is a Ghost Story, I was struck by the plain style, relative to DFW's, that is. I figured I'd flip pages and take in what I could in a few hours and leave it at that. But I found myself drawn in with each chapter and ended up devouring this sad, inspiring story. Sad because of DFW's struggles and tragic end, inspiring because of his dedication to his art and his endless quest to live honestly and fully in the face of countless falls and relapses.

The guy had issues early on, having to leave college because of anxiety and depression. Drug use followed, much of it prescribed, and his life became a tale of finding the right mix that would keep him stabilized, which sometimes required treatments of electroconvulsive therapy, which led to memory loss, devastating to anyone but particularly for a writer. All of this was complicated by his insecurities, his intellect, his yearning/fear of success. It wasn't enough for him to tell a good story; it had to mean something. Max explains: "To rely too much on plot risked seducing the reader; it was like selling Tide." Reminds me a little of Holden Caulfield. Wallace never quite knew how to fit in. And fame didn't make fitting in any easier.

He was happiest when the work was going well. When it wasn't: 'Work is like shitting sharp stones,' he wrote in a letter to Jonathan Franzen.

I had doubts early on regarding whether this book would appeal to those who haven't read DFW, but those doubts by the end were completely dispelled. In fact, I didn't want to finish, partly because I knew how the story would end. I knew some details, though I didn't want to know too much. But the details Max provides are just enough. In fact, this insightful book will have you searching for Wallace's work. A good place to start would be with his essays, which may drive you a little batty with his footnotes, but you'll find yourself in awe as you glimpse his thoughts.