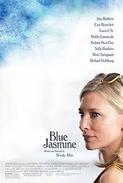 Here's a clue that you've seen a multitude of movies by the same director: you recognize the director's font in the opening credits! And the font provides you a degree of comfort, an assurance that you're in good hands. I don't know when Woody Allen's trademark font first appears in his movies, I don't even know the name of the font, but I'd guess it's been the same for nearly two decades. I think I understand. When I write fiction, I always use Palatino. I don't want to devote even a minute's consideration to such a decision. The world is right when I see Palatino on the page. It's both formal and inviting. A friendly font.

In his current movie, Blue Jasmine, Allen relies again on quirky and witty and fast dialogue—not Aaron Sorkin fast—but brisk and compelling, with hardly ever a false note betrayed. I'd be curious to see what would happen if someone else made a Woody Allen movie. What I mean is, he writes the script but hands it off to another director. A hack director. I want to see what happens to the acting, which is always superb in Woody Allen movies, and especially in Blue Jasmine. I've never been tolerant of Andrew Dice Clay, but he's excellent in this. And so are Cate Blanchett and Sally Hawkins, who plays Blanchett's sister. I'd also like to hear the score some other director might settle upon. Allen uses straight ahead blues to excellent effect here that helps to convey mood and the passage of time.

Some reviewers have likened the movie to A Streetcar Named Desire, which I'm not sure I would have noticed otherwise. But they're right; the parallels are clear. I usually hate this because the original always seems like a constraint to me. The director or writer tries too hard to be faithful to the original. But I didn't feel that with this movie. Allen makes enough leaps, and he makes the story his own.

After making dozens of movies with New York as the backdrop, Allen has recently taken his crew on the road—to London, Paris, Rome, and this time, to San Francisco. I'm not sure he makes best use of the location this time around—any American city would have probably sufficed—but at the same time, San Francisco felt right. Not Vertigo right, but a good fit.

In terms of plot, this one as usual has its share of twists, all pushed forward by characters' decisions—based on greed, insecurity, loneliness, desperation. And the threads all come together remarkably well. Some others in the audience, at the very end of the movie, huffed their disappointment. They wanted more, a cleaner resolution. But I thought it worked well. I was even thinking, Yes, this is the end. This is fitting.

It occurs to me that I've never provided a typical star rating for a movie or a book, but since it's crossed my mind here, I'll take a shot. Let's see, this is more difficult than I would have guessed. Four stars would suggest perfection, and there's one major event in the movie that struck me as a little too coincidental, so I will go with—oh, I wish I knew how to insert an actual star here, but I'm not sure I want to take the time to find out how—I will go with three and a quarter stars.

I did find these symbols, most of which I cannot name: œ∑´®†¥¨ˆø˚∆˙©ƒ∂ßåΩ≈ç√∫.