Finally. A book I couldn't put down. I've been in a reading doldrum. (My spellcheck tells me doldrums is only plural. Doubtful, I checked my battered on-the-shelf dictionary that agrees. I guess I've never used that word in any context. I'm a little excited.) Oh, I've been reading. In fact, I'm working through several books, but they seem like jobs to me. But finally. A solid, fine book.

I've picked up this book several times but for some reason dismissed it. The words and the cover didn't change, of course, so I'm not quite sure why I was pulled in this time.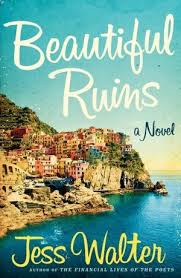 The book, Jess Walter's Beautiful Ruins, has attracted rave reviews, which always makes me reluctant or suspicious or jealous, which may have kept me away. And after reading the book, I found the glowing blurbs on the back to be a little off. Most contend the book is hilarious, which makes me wonder if the blurbers actually read the book. The book is by turns joyful and dark and mysterious and suspenseful and maybe a little madcap. But hilarious?

I'm usually averse to books that include a story within a story. My mind keeps wanting to return to the main action, the primary dream. Beautiful Ruins includes many of these asides, even a play within the story, but they're all so compelling, that I didn't mind being torn away. And yes, the pieces all come together gracefully by the end. Some of the asides could have been shorter and still achieved their purpose, but as I said, I enjoyed them and wasn't eager for them to end.

The novel is set mainly in 1962 Italy and modern Los Angeles, with a few other locales and times as well, and it includes endearing characters, along with famous movie stars, and all this is weaved together in surprising and satisfying ways. I highly recommend this touching and beautifully written book.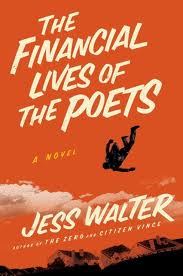 Walter has a few other books out, so I also read The Financial Lives of the Poets. And this book IS hilarious. I'm one of those readers who smiles and cries and harrumphs while reading, but rarely do I laugh aloud. But this book had me full out laughing. It's about a broken man in financial straits with a broken marriage, which is Richard Russo and Jonathan Tropper territory, but Walter adds his own original twists. Toward the end, the story spirals a little out of control and veers close to farce, but Walter preserves the vulnerable sweetness of the main character. It's one of those books you'll finish in a day and that'll make you feeling grateful for the ride.

While finding a picture of cover, I found that they're making a movie of this book, calling it Bailout with Jack Black. I already predict that the book will be better than the movie. (Or has movie already been released?)