Here are a few summer reading recommendations. Or you can read them in the winter. If those two seasons aren't available, spring or fall would also work well. I happened to read them recently, so they will forever be summer books in my mind. Two of three are quick reads—the King and Haruf books—so maybe you want to save those for a rainy spring day?—and the third will likely require a few days, which will be well worth your time. What else do you have to do?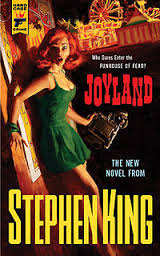 Stephen King. Joyland.

I have minor reservations about all three of these books. If Joyland had been his usual 800 page effort, my reservation would have loomed larger (as in The Dome, a rambling mess). I'm not sure if this spoils anything, but I'm going to lay it out there. If a character has paranormal abilities, that ability should be fairly consistent. In this case, the ability comes and goes, because, we're told, that's how this gift works, which is merely a tool to build suspense.

Having said that, I did enjoy the book, which didn't really need any paranormal elements. The main character is endearing, and the bonds this young man creates—the human bonds, not the ghostly ones—resonate with a sweetness that reminds me of his other book, 11/22/63, which I highly recommend. There is a ghostly element that works well, which may have been enough to keep the plot moving. In terms of the writing, the narration is breezy (is that a requirement of a beach read?), which is why you can get through the book in a day, but the ending transcends the ordinary. The ending is King at his best. Oh, and the packaging is pretty cool. Like pulp fiction from the 40s or 50s.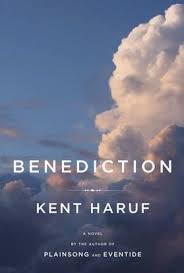 Kent Haruf. Benediction.

As with two of his previous books, this novel is set in Holt, Colorado. If you liked Plainsong and Eventide, you'll have to read this one. In those previous books, the main characters converge at the end in surprising and satisfying ways. Haruf tries the same formula here, but the ending falls a bit flat. I think the novel could have gone through maybe one more revision. That aside, the great satisfaction in reading this book comes from getting to know one of the main characters, an old man who can be as generous as he can be stubborn. I loved spending time with all these characters, which is why I devoured the book in a day. There is wisdom here.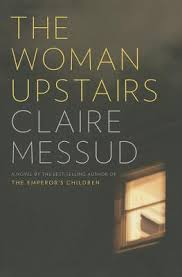 Claire Messud. The Woman Upstairs.

The only reservation I have about this one is the pacing in the middle. But the writing is so eloquent and so well crafted, that it doesn't matter much. You settle in and go where the story takes you, satisfied that you're in such qualified hands. The main character is a third-grade teacher, a woman who is usually ignored, hence the title, but gradually finds herself in the middle of tempestuous relationship with a family. After you read the first paragraph or two, you will not put this book down. And the last chapter is one of the most potent I've ever read, surprising and earned and unsettling. And perfect.