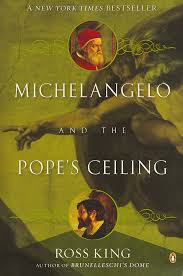 I'll admit to a little guilt. While the rest of the country last week was stoked with patriotic fervor, I was getting in touch with my inner Italian. Which isn't all that different from my outer Italian. Mainly because I came home from the old country three weeks ago but have resisted letting go. I think my family sensed this, and for my birthday presented me with olive oil, balsamic vinegar, pasta, Panini spreads, and books about Italy.

Right now I'm poring through Ross King's superb book, Michelangelo and the Pope's Ceiling, which not only captures the former's quirky genius and the latter's boorish bullying but also the Italian character, which I described in a recent post. One example: The word nepotism comes from the Italian word nipote, or nephew. Nepotism is not exclusive to Italians, of course, but Italians don't pretend to conceal the practice, which I suppose can be seen as refreshing.

On the Pope's character. He was known as il papa terrible, who viewed himself as a messiah and who assembled his own army to invade regions of Italy. He fathered children. He ordered Michelangelo to build 40 statues for his tomb but then reassigned him to complete other projects, refusing to pay Michelangelo for the marble he had to purchase. Probably the only reason he became Pope is because he was the nipote of a previous pope. And did I mention that he fathered children?

On Michelangelo's habits and genius. He had to create 100s of sketches for the Sistine ceiling. Early on, he destroyed a month of his work when the completed panels didn't meet his standards. He helped design the elaborate scaffolding suspended on window hooks near the ceiling so that bishops could continue to use the chapel. Then he added a layer of canvas below the scaffold to collect spilled paint and so that no one could see the progress of his work. (I still vividly recall his unfinished sculptures for the Pope that are housed in a Florence museum right next to David…the chisel marks that suggest brawn and sweat and vision.)

On Michelangelo's quirkiness. It was common to bathe only once a week back in the 1500s, but Michelangelo hardly ever bathed and rarely took off his boots, which simply withered away. He ate little and kept mostly to himself. If he were alive today, he'd probably be one of those guys who believed that tornadoes were a sign of God's wrath for sinful behavior.

Myths corrected. He did not paint the ceiling single-handedly. He had many assistants and fellow painters and laborers. He did not paint on his back.

The book may be too detailed for some readers, but I'm finding the specifics fascinating, from the arduous process of actually getting the paint on the ceiling (the coat of plaster applied just before painting had to be wet!) to the many rivalries Michelangelo had to endure, most of them with polysyllabic names difficult to remember.

In my defense, I did attend a Fourth of July parade in the afternoon. I clapped for the firemen and cheered for my fellow patriots. At night, I watched fireworks and thought about the significance of the date, though John Adams predicted July 2nd would forever be associated with independence. I didn't eat a hot dog or a slice of apple pie, but I didn't eat pizza either. Though I would maintain that there's no better pizza than in Chicago. Is that patriotic enough for you?