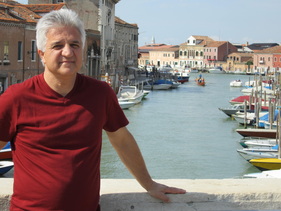 I've been home almost a week from a twelve-day trip to Italy, yet I still feel a trace of jet lag, often waking at 4:30 a.m. Traveling to Italy, where it's six hours ahead, I didn't feel tired at all. Part of my exhaustion could stem from all the transportation required there. We traveled, in order of most to least time spent, by plane, bus, train, ferry, boat, water taxi, car, taxi, shuttle, and gondola. The gondola included an accordionist, an opera singer, and a bottle of champagne. A little different from how I spend my time in Illinois.

Though my family came to America when I was just an infant, I still feel a special connection to my homeland. But the feelings are mixed. On one hand, there's beauty and history and gelato at every turn. There's Pepino, the chef who made us fresh omelets in Salerno. And the outdoor restaurant, La Tagliata, at the top of Positano that looks out along the Amalfi Coast, where they offer not a menu but a feast of their choosing. The canals of Venice. The narrow streets of Assissi where every balcony is adorned with colorful flowers. The art of Florence and Rome. Outdoor magazine stands and bookstores on many corners. Towering cypresses and hardy olive trees. And there's my personal history. Cousins and aunts and uncles, many of whom I'd never met, who told stories I'd never heard. There's Zio Filuccio who made the sign of the cross every time he drove past the cemetery, and cousin Mario, the fireman who marched in the feast of Padre Pio parade one night and suddenly broke ranks when he spotted me to shake my hand, the first time we'd ever met. There's the outdoor "laundry" across from Mario's house, a low brick rectangular pool into which fresh water flows throughout the year. I can go on and on, but all words will prove lacking.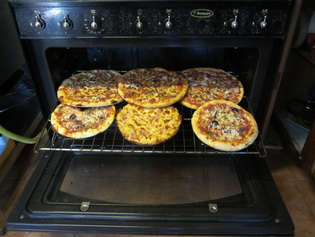 We showed up in the village where I was born on a Tuesday, the day for baking bread and making pizzas.
On the other hand, Italians have their particular way of navigating the world, sometimes peculiar and at other times quaint and charming. You can decide for yourself into which category these items fall:

1. The Italian embrace. Two cheeks, right? Everyone knows this. But after butting heads the first few times, I soon realized that the right cheek always gets kissed first.

2. The farther south you drive, the worse the drivers. By the time we got to Rome, there were countless times when I thought, "Oh, no way that car is going to fit there, not this time." And there the car would squeeze. During our last taxi ride, the driver sped along the highway at 160 kph. I didn't know what this meant, but when I got to our hotel I consulted a conversion table and calculated that we were screaming along at 100 mph. But we didn't see a single accident.

3. The farther south you drive, the better the food.

4. For one euro, you can buy a thong from a gumball machine at a truck stop. You can also buy a power saw, a fresh sandwich, olive oil, and the newest Dan Brown book, translated into Italian.

5. Every hotel has a bidet. I think they were bidets. I still don't know how one would use a bidet. They just took up space, which was the conclusion of every American we met.

6. At restaurants, waiters and waitresses are efficient but unfriendly. After they take your order and bring your food, they never return to ask if you'd like another drink or if you'd like your check. You are obliged to find one to request the bill. How much do you tip someone who seems put out to be waiting on you? Beyond pizza and pasta, menu choices are slim. The salad arrives after the main meal. Oh, it's typical to begin eating dinner at 9:00 p.m. At my cousin's beautiful new restaurant in the middle of a tiny village, surrounded by mountains, we didn't begin our meal until 9:30. There were plenty of young children still there near midnight when we finally finished, and we wondered if children had certain bedtimes.

7. Hotel breakfast buffets include, along with scrambled eggs and toast, carrots, green beans, salad with vinegar and oil, hot dogs dipped in some tangy red sauce, figs, canned peaches, and prosciutto.

8. French fries on pizza.

9. At one outdoor, seaside café, we saw a huge drink menu along the curb that included iced coffee. I approached the counter and asked for this. The man and woman inside both glared at me like I was crazy. How much does it say? they wanted to know. I told them, and they looked at each other and improvised how they'd make this new drink. It turned out to be delicious.

10. Italians, when asked for directions, seem helpful. But most of them simply point ahead and tell you to keep going.

11. They believe that the air from a fan will cause your shoulder to be sore. We didn't see many fans, and the ones we did see were never spinning.

12. Train tickets need to be validated after they're purchased; otherwise, you can be fined a stiff penalty. To validate, you insert the ticket and get the time stamped. But no one checks your ticket after you board.

13. Tiny showers. Which helped me understand why there are few obese people in Italy. At least we didn't see many.

14. We saw an elderly man and a middle aged woman doing some serious hanky panky in public along a tree lined street in Florence.

15. On a plane to Venice from Rome, we waited on the plane for over an hour because they had only one runway open. In Rome. On a Saturday afternoon. On the way home, we boarded a plane in Rome again, then were told we'd have to un-board because they needed to fuel the plane.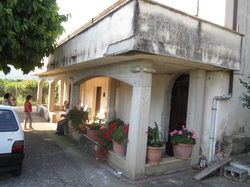 The house where my father lived as a boy. During the war, nazis took the house. My grandfather came later to check if they were gone. As he was leaving, they told him to stop, which he did not for some reason. And they shot him.
I was particularly torn when viewing the majestic statues inside holy basilicas or admiring the grand fountains built my rich nobleman. No one can deny the awe these treasures generate. But when you hear the stories behind the art, you pause. For example, in Venice in the 16th century, dukes who ordered artists to create busts and frescoes and domes, all in the name of maintaining power, were vicious, and in some cases deadly. Pope Julius II ordered Michelangelo to build 40 statues for his tomb. Why anyone needs 40 escapes me. Michelangelo never finished because the pope assigned him other tasks, such as painting the ceiling of the Sistine Chapel, which he did standing up. Have you ever painted a ceiling with a roller? After ten minutes you've had enough. So yes, artists were bullied and coerced and in some cases enslaved, yet without that, little of the art or the ruins that still exist would have ever been created. Sure, there would have been something created somewhere, but not anywhere near the same scale.

Our tour guide told us that Michelangelo was a little different, weird maybe. Single-minded, as genius sometimes commands. Even when pushed around. And sometimes a little rebellious. Apparently, he painted his own face on the ceiling of the Sistine Chapel, but the face is on the skin of Bartholomew, a silent protest over being the pope's puppet.

One final highlight that caused no qualms. Only awe. Michelangelo's David in Florence. You meander around it and take in the meticulous precision of each chiseled indentation of collar bone or taut tendon or clawed finger. And you can't believe what you're seeing. It's perfect.

I want to go back.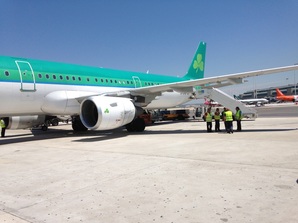 Waiting for the plane to be fueled. After we'd boarded and de-boarded.