I need to do some catch-up on reviews of books I've read over the past few months. In no particular order.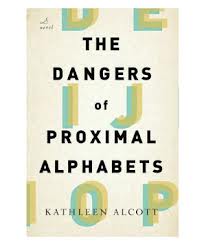 The Danger of Proximal Alphabets
Kathleen Alcott

This novel centers around a tumultuous first love, with an emphasis on first. These two know each other since birth. The book is not long, but you'll find yourself flipping pages slowly because the writing is so precise and moving. It's one of those books I'm keeping in sight, like a shiny new gem, so I will go back to reread it. A heartbreaking and lovely book.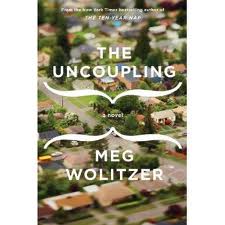 The Uncoupling
Meg Wolitzer

I'd never read any Wolitzer before. Her newest, The Interestings, is getting a lot of attention, but I couldn't find it at the book store, so I bought this book instead, one of her older novels. It's about a high school drama teacher who puts on a play that slowly puts a spell on the women in the town, which makes them turn cold toward the men in their lives. The middle becomes predictable because the same thing happens again and again, but the payoff is satisfying and well worth the read. Though this spell business might seem magical and mystical, the action is grounded in this world and will make you examine your own relationships. This is a smart and moving book.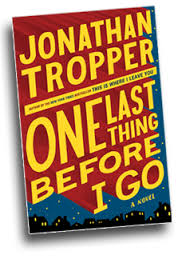 One Last Thing Before I Go
Jonathan Tropper

I've read three or four books by Tropper, and they're all funny and wise. I'm not sure this is his best book, but his losers are endearing. He's one of the few writers who gets me laughing aloud while reading. He reminds me of Richard Russo, and I wish he would decide to be as ambitious as Russo and write a big, sprawling book like Nobody's Fool or Risk Pool, two of Russo's finest.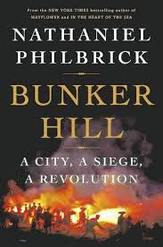 Bunker Hill
Nathaniel Philbrick

The only nonfiction book this time. I haven't read much about the battle, so I don't know if this is the book to read on the subject, but I thoroughly enjoyed how Philbrick breaks down the battle into its most personal elements. Some families had relatives who fought on opposing sides. You needed seven men to fire a cannon. Doctor Joseph Warren should be as well known as George Washington, and if he hadn't died young might have been. The colonial armies were a ragtag bunch of undisciplined but ferocious fighters. If those are the kinds of details that excite you, you will love this book.