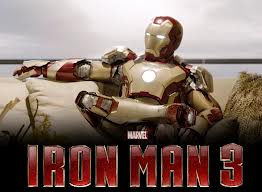 Iron Man Rusted Out

If I read a dog of a book, I won't write about it. Books are hard enough to sell without bloggers piling on. But I don't have any problem trashing the waste of celluloid that is Iron Man 3 because this little post won't register a blip.

This first two Iron Man installments were briskly paced and suspenseful and well written, so my hopes were high. But this most recent effort is a mess.

I'm going to give away surprises, dumb as they may be, so fair warning.

Iron Man this time around suffers from insomnia and panic attacks. Why, I'm not sure. To humanize him? His banter and witty asides accomplished this pretty well in the first two movies. Okay, so he suffers panic and post-traumatic stress; let's see where this goes. As it turns out, his attacks come only during down times! Let the guy freak out in the middle of a battle.

Speaking of banter, this time it's overdone and poorly written and nearly always forced. The rare instance where the banter is even remotely endearing is when Tony Stark (Iron Man) bluntly says goodbye to a boy who has saved his ass. The kid expects the usual adult advice, but Stark pretty much tells him to stop feeling sorry himself. The moment is ruined at the end, however, when Stark arranges to have the kid's garage souped up with tools and gadgets and a new car that he won't be able to drive for a few years. It's a touching gesture, but only until you recall that the kid's father left him six years ago. The kid needs guidance and time, not some rich guy's charity.

The bad guys are pretty bad, but it's hard to understand why they're so indestructible. They begin as regular old humans but their DNA is manipulated and they rapidly evolve, but they become iron sturdy for some reason—and also superheated, on command no less. You never quite know what their superpower is.

In terms of Iron Man's superpowers, he can now control the iron suit remotely. Why would he ever suit up and risk his life if he can do this? And we find out by the end that he's built an army of these suits and sics them on the bad guys, which makes for an unevenly matched battle and effectively drains the drama. All we have left is the individual battles, and I'm okay with that. But even here, the good guys use some ultimate swipes or press some backup remote thing, which makes you wonder why they didn't simply use those backup things in the first place. And why Iron Man decides to don or slip out of his iron suit is mostly incomprehensible—other than when he has to charge the suit. I'll buy that. But why does he need to charge the suit if he has all these reserve suits that come out in the end?

The special effects are okay. But when the rest of the movie is dumb, the effects become only mildly entertaining.

The only true highlight: Ben Kingsley. His role could easily be a forgettable one, but he ranges from sinister to amusing to clueless. The guy is brilliant.

So how much money has this movie made? Save yours.